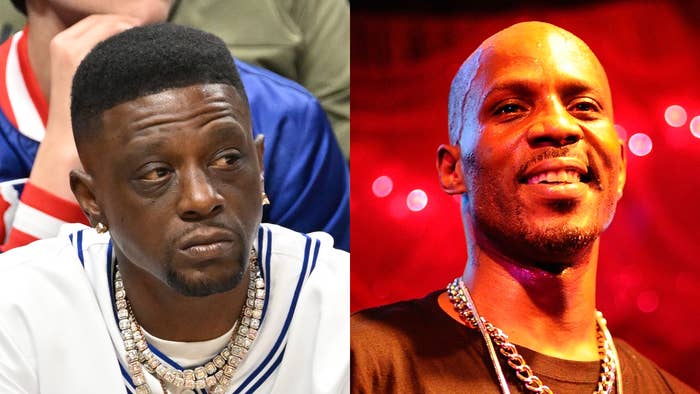 Boosie Badazz has recalled a time he was a teenager and was brought to tears during a DMX concert in Florida.
During his conversation on Sway's Universe, the Baton Rouge, Louisiana native reflected on the time he attended Jay-Z's Hard Knock Life tour in the late-'90s with his family and was brought to tears when DMX closed out his set. After every performance, X would deliver an emotional prayer that caused fans to get misty-eyed by his raw passion.
Boosie went to the show with his uncle and cousin in Jacksonville, Florida, and was stunned by the "Get At Me Dog" rapper's powerful message that night.
"The best person I ever seen perform was DMX. He made me cry," Boosie said at around the 22-minute mark. "I was 14 years old… Jay-Z opened up for him… I saw him perform in Jacksonville, Florida. DMX made me cry."
He continued after confirming it was the Hard Knock Life tour, "When he said that prayer at the end bro? Me and my cousin [were] holding hands. Man, we was holding hands crying… It was my first big concert I've ever been to cause I had gotten into trouble for the summer I had to go live with my people in Jacksonville and my uncle took me to the concert bro. I never seen nothing like that in my life."
DMX had an unparalleled stage presence that even had Jay-Z tip his hat to the late rapper. In an episode of LeBron James' The Shop, Hov reflected on the Hard Knock Life tour and having to perform after X, who had just torn the house down.
"My fondest memory of DMX is: he improved my stage show," Jay recalled. "X is about to go, and I'm like, I wanna see … And he goes [growls], and the fucking arena goes crazy. First of all, it's deafening, and I'm like, 'Ohhh shit.' He has a thing, like an Alize and Hennessy mix, it looks like blood, like he's drinking blood, and he's running back and forth. Halfway through the show, he takes his shirt off and the whole crowd goes wild. 'Aaaaaah!'"
Jay added, "He's going nuts, right? And I'm like, 'Shit.' First the guys are going crazy, now the girls are going crazy. And then he gets to the end, and he starts a prayer. And now they're crying, the whole arena is crying. And then [organizers] are like, 'OK, now you go.'"
Irv Gotti, who helped DMX early on in his career, shared a similar story with GQ in 2018. According to Gotti, DMX left his mark one night at the legendary Apollo Theater, where he hit everyone in the chest with a powerful performance.
"He tore that shit down, and he ended with 'Prayer,' and started crying," Gotti recalled. "And when he closes with the lines, 'So if it takes for me to suffer, for my brother to see the light, give me pain 'til I die, but please, Lord, treat him right,' and threw up the X with his arms, there was hood niggas and bitches in there crying. Every motherfucker in the Apollo had the X up with him and they were crying. He was like, 'I love y'all niggas. I love my niggas.' He's telling everyone in the audience 'I love y'all.' I was on stage behind him, and I was like, God, man. That's DMX, man. Artists don't have a connection like that. He's in your heart. He's in your fucking heart."