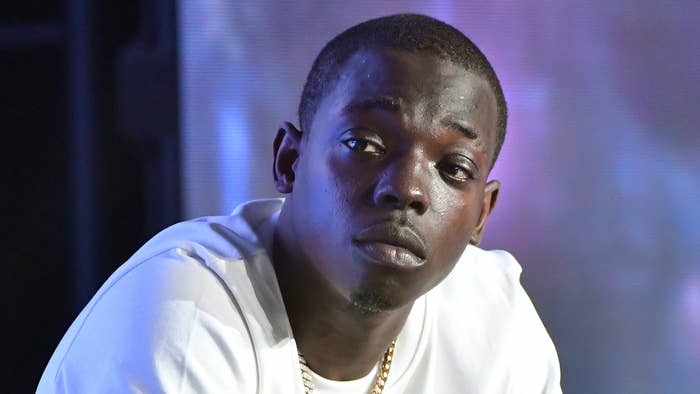 Bobby Shmurda has revealed hip-hop music is no longer his cup of tea and labeled it "dangerous" for children.
During his conversation with the Danza Project podcast, the Brooklyn 28-year-old admitted that he no longer wants "to be a part of the rap game." His distaste for the genre has extended to the point where the only time he listens to it is in the club.
"You got these fucking kids following you guys...and you're fucking rapping about these lifestyles," he said at the 53:00 mark below. "It's endangering, it's very detrimental, very dangerous to the communities, that these little kids think that is going on; [something] that you did not even live."
He continued, "I think rap's supposed to be telling motherfuckers to go from negative to positive, coming from poverty to going to riches and stuff like that. And how to stay in that and how to change. That's the shit that I wanna hear, I wanna hear about living life. ... That's why I don't listen to rap, for real, I don't listen to rap. I don't know nothing about rappers. ... Only time I listen to rap is when I'm in the club, I just dance to anything."
When it comes to music that he does listen to, Shmurda has recorded himself enjoying several reggae dancehall records on his Instagram.
Elsewhere in the Danza Project interview, which saw him accompanied by LouGotCash, Bobby said (at the 52:00 mark above), "I don't want them to label me or Lou as rappers, we're artists, we're just artists. We wanna be artists, we don't wanna be a part of the rap game, we don't want no awards. We don't wanna be associated with you fucking rappers, OK? You guys just fucking talking a lot…you guys just off the chain."
This is in keeping with Bobby Shmurda's January track "Rats," which found him calling out all the snitches in the industry.
"It's lit, man, fuck all y'all rap n***as/Most of y'all some rat n***as," he rapped. "All y'all chit chat, n***a/Oh, yeah, shoot a n***a with no mask, n***a/All my n***a done clapped n***as."