Bobby Shmurda Threatens YoungBoy Never Broke Again Amid Online Back-and-Forth
Bobby Shmurda has issued a threat to YoungBoy Never Broke Again after the pair got into a beef over comments fellow GS9 rapper Rowdy Rebel made on a podcast.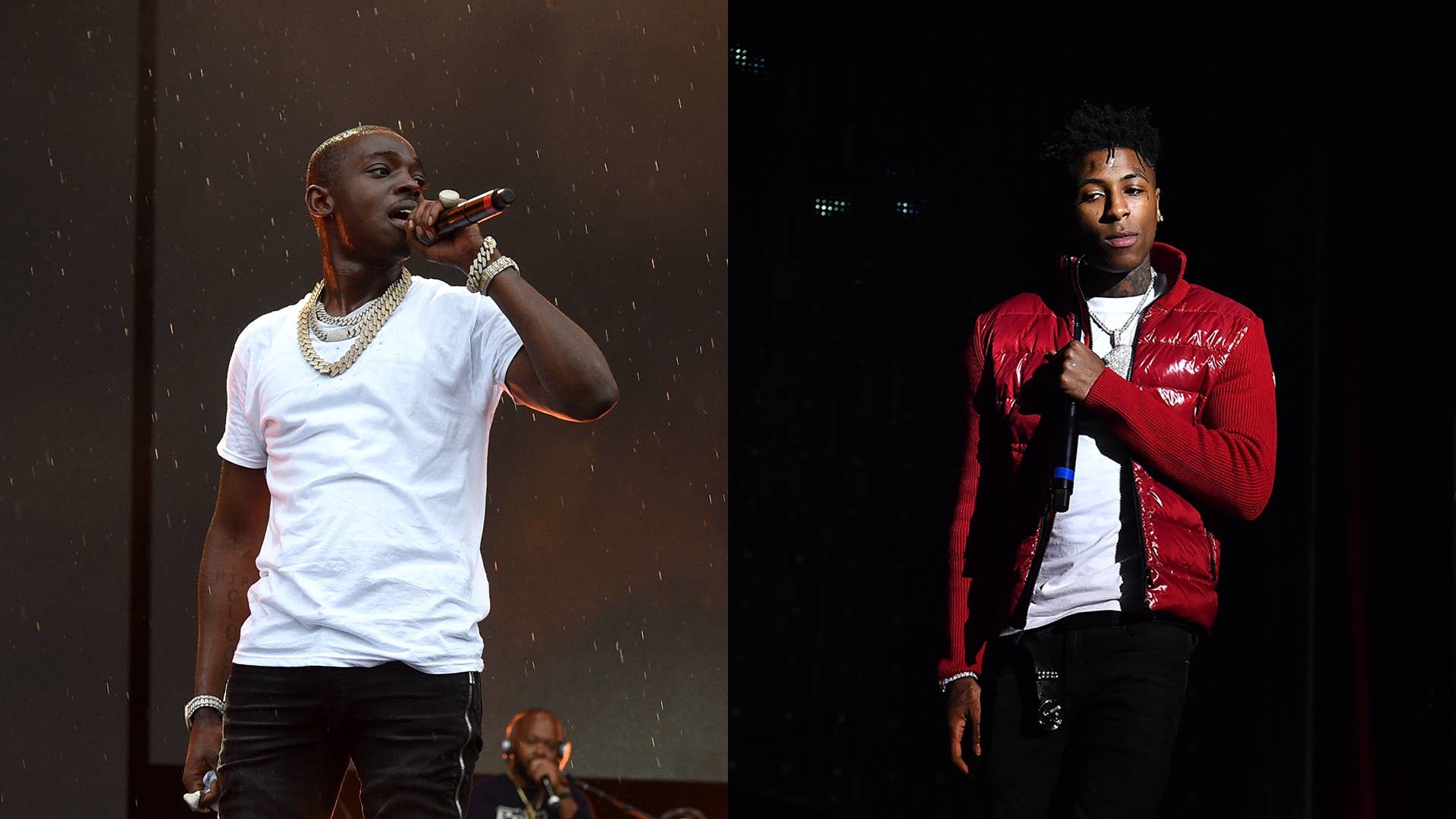 Getty
Image via Getty/Kevin Mazur/Paras Griffin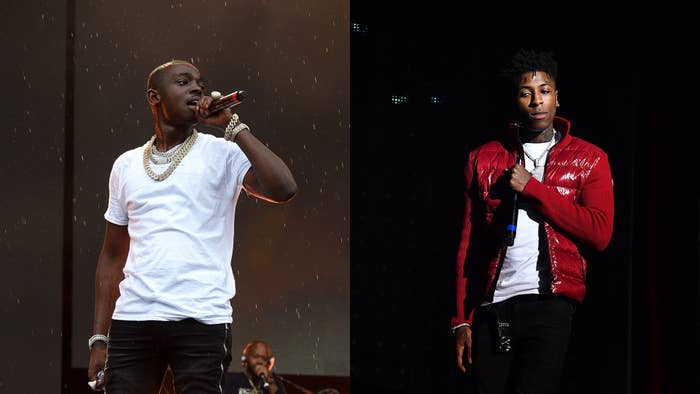 Bobby Shmurda has issued a threat to YoungBoy Never Broke Again after the pair went back-and-forth over comments Rowdy Rebel made on a podcast.
In a pair of posts on his Instagram Story, per HipHopDX, YoungBoy referred to Shmurda as "von Shmurda" and a "slave." "I thought you was a fan," he wrote. "Go make a hit. I just want to be friends. … Well talking violent. Help me keep the peace or just stay fara way slave."
He followed up the posts with a number of videos, in which he called out both Shmurda and his close associate Rowdy, while also suggesting that he doesn't want any problems with them.
"This flunk-ass n***a want another n***a to jump out the truck and pump fake, and then get shot in his face? Man, you sound stupid as fuck! You n****s dumb," he said, as seen below. "I don't want no problems with you n****s, man. Stay the fuck out my way or get dang, man. Stop the violence like I said, man."
YoungBoy also pointed out that Shmurda went to prison at the "height" of his career, and joked that his streaming numbers have been low ever since his return.
After his comments, Shmurda fired back during an Instagram Live session.
"Somebody tag the little n***a because I'm not doing this internet shit," he said. "I wasn't even talking about you. You understand, little n***a? … I'm 2 and 0 for the year already. On parole, n***a. $1 million up. Stop fucking playing with me … I make $100,000 a week. I don't give a fuck about no views, I'm not a little kid like y'all n****s. I'm 28 years old, I'm a grown-ass man. I'm in here for money." 
He then proceeded to threaten YoungBoy, Quando, and DJ Akademiks. "Any n***a I catch like Wack [100]," he said. "Y'all can record this, I'm going to boom them on camera. On parole? I don't give a fuck. I'm gonna boom one of y'all n****s on camera. On my dead grandmother, n***a. The fuck is wrong with y'all n****s?"
In a number of videos posted in response, YoungBoy appeared to laugh off the threats. "That n***a wanna kill me," he said in a clip. "You ain't gotta wory about trying to harm me, son. And you ain't gonna touch me. I got security, man."
Shmurda shared another word on the matter, and noted that he received a call from his parole officer over his threats. "I don't want no problems," he said with a smile in the video. "I ain't do nothing to nobody! Just how I be playing on the Instagrams."
During the same clip, he made reference to YoungBoy's former label, Atlantic Records, and accused him of using "bots" to increase his streams.
"Atlantic Records, I know y'all got NBA YoungBoy. Epic already on my ass, Roc Nation. Listen, please. Atlantic Records, I don't want no problems," said the rapper, who is now independent following his exit from Epic. "I don't want no problems because these labels, man. They got the marketing side where some people are going to try to push to get you locked up where they don't want me to fight back. Then they got the marketing with the bots. Atlantic got the best bots. Atlantic's bots is crazy. NBA's bots bout to go crazy. 1,000 bots is something like $2,000. They got packages."
He also circled back around to YoungBoy's "slave" comment, and turned it back at the rapper. "I'm not a slave. NBA's like one of the biggest slaves in the game," he said. "He's a slave to them, so they're gonna go crazy for [the] boy. All the shit y'all see on YouTube is fake views." He doubled down on the payola accusations, and accused his label of paying $2,000 to every radio station to get his songs in circulation. 
It all culminated when YoungBoy shared some DMs between him and Shmurda, who he has since blocked. He call
"Nah you da feds," said Shmurda upon reposting the exchange. "I'm sorry to all the gangster for entertaining this I did bad I apologize like a man please I don't want no beef with nobody." Most of the posts have since been deleted, while YoungBoy has seemingly deactivated his Instagram page.
This beef appears to have kicked off after Rowdy questioned the motives of King Von's alleged killer Lul Tim, who is an associate of YoungBoy and Quando Rondo, during a recent appearance on Math Hoffa's My Expert Opinion. He questioned why the situation went down the way it did, escalating to murder instead of a peaceful resolution. YoungBoy caught wind of the comments, and has since called Rowdy "irrelevant."
"'Be trying to make all the sense thinking what they saying real but sounding stupid asf' Just mind yo businesses," said YoungBoy in a post on his Instagram Story. "And stop the violence – Quando big brother." 
Just a day later, Shmurda appeared to diss Quando Rondo after he made a reference to Lul Tim on the 3860 collaborative mixtape with YoungBoy. "N***s be jacking everybody other shit. What you doing? What you doing, homie?" said Shmurda. "Stop telling me about your brother's shooters and your brother's this and you always — what the fuck do you do? Huh?! When are you finally gonna do something?"