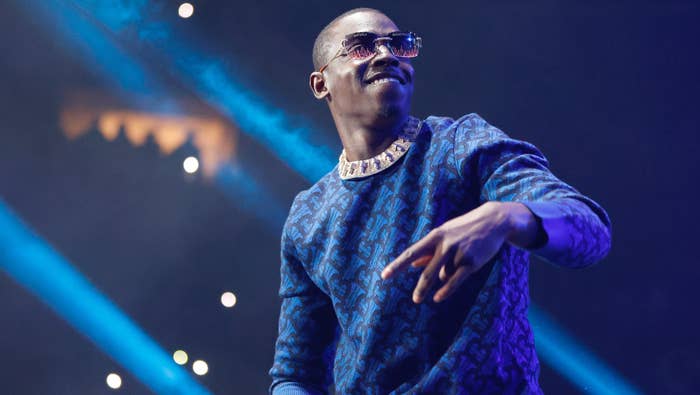 Uncle Murda released his annual "Rap Up" song over the weekend, where he reminisced on some of the biggest pop culture moments of 2022 while dissing a number of artists. 
Among those mentioned on the 15-minute track is Bobby Shmurda, who Murda name drops when talking about the Brooklyn artist's beef with YoungBoy Never Broke Again. 
"NBA YoungBoy had Rich the Kid shook over a little picture with Lil Durk that he took/Hope he know Bobby Shmurda and Rich the Kid different/Bobby will really boom you, n***a, watch who you mention," Murda raps.
The lines reference Shmurda's ongoing feud with YoungBoy, as well as the Baton Rogue rapper calling out Rich the Kid for posing in a picture alongside Lil Durk, who has also beefed with YoungBoy.
On Monday, Bobby hopped on Instagram Live to post his reaction to Murda's line.
"Murda, I'm a changed man, Murda. I'm a changed man," Bobby joked in the clip below. "I'm different, I'm tryna change, Murda. I ain't trying to boom nobody no more."
Shortly after Shmurda posted the video, none other than 50 Cent hopped into the comments section to share his thoughts on the reference. 
"Crazy crazy, Crazy," Fif wrote.
Bobby is far from the only MC mentioned on Murda's "Rap Up 2022," nor is he the first to respond. On Monday, Freddie Gibbs took to Twitter to call out Murda, who on the song blasted the Buffalo rapper for getting jumped on his turf last year.
"Uncle Murda be friendly as a box of puppies every time I see him," Gibbs wrote.
Hear the much-discussed track below.