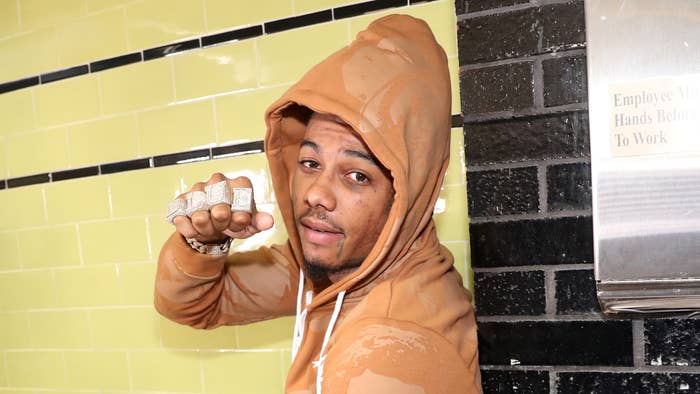 An unknown man stabbed Blueface while the rapper was training at a boxing gym for his upcoming fight in October.
According to footage shared on his Instagram page, Blueface was training at a gym in San Fernando Valley on Wednesday when a random person dressed in a white tank top and jeans approached him. One of the trainers, David Kaminsky, got in between the rapper and the stranger as an argument began to brew.
Blueface took matters into his own hands and threw several punches at the man, who fell back before pulling out a knife. The video cut off right before the stabbing, but Kaminsky told TMZ Hip Hop the situation escalated once the man started yelling, "I'm gonna kill you" at Blueface.
Kaminsky added that the man stabbed Blueface in the leg and ran from the scene. Eyewitnesses stated the attacker was in a black Tesla Model S and had a Rottweiler by his side. Blueface wasn't seriously injured, but due to getting poked in the leg, he will now have to miss his fight.
"I won't be able to fight October 14th due to a injury won't have enough time to heal don't say I ducked none bro came with a dog an a knife at 10am," Blueface explained on IG.
The rapper's latest incident happened two months after he was arrested in court and taken into custody for his alleged involvement in a robbery in Las Vegas. His bail was set at $20,000, and his manager Wack 100 took to Instagram to announce his client was already released and spending time at a spa.