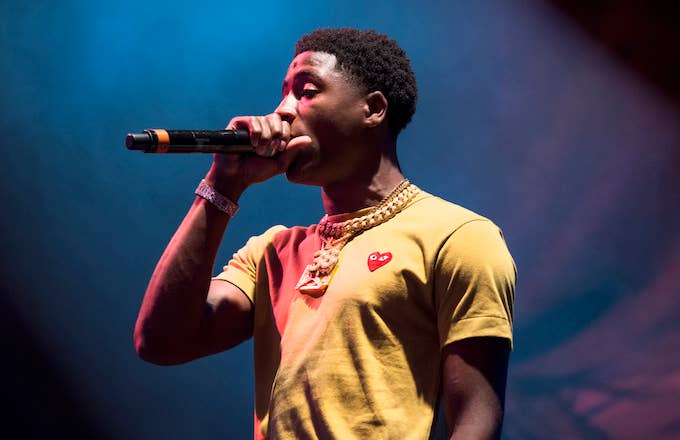 YoungBoy Never Broke Again, legally known as Kentrell Gaulden, was put on probation last May for pleading guilty to a drive-by shooting in Baton Rouge, Louisiana. Fortunately for YoungBoy, his 10-year prison sentence was suspended in August of that year, with the only punishment being an active, three-year supervised probation. Unfortunately for Gaulden, he was recently arrested in Florida — violating that probation — which has added a variety of additional conditions to his probationary period.
According to The Advocate, District Judge Bonnie Jackson — who is responsible for supervising the 18-year-old rapper's probationary period — told Gaulden that "failure is not an option" after suspending his initial sentence. The Tallahassee, Florida arrest this past February stemmed from a fugitive warrant from the state of Georgia, and regarded domestic violence, kidnapping, and assault charges.
While Gaulden's attorney, James Manasseh, claims the gravity inherent in these supposed allegations from Georgia is "not nearly as severe as it's been made out to be," April Leon of the East Baton Rouge Parish District Attorney's Office calls Gaulden "a threat to society and the safety of others." The new probation conditions YoungBoy will have to face include a ban from social media, presumably not to make fun of the legal system or paint Gaulden's tribulations as anything to joke about. Here's what he posted after posting $75,000 bail earlier this month.
As it stands — regardless of Manasseh's fairly flippant dismissal of the seriousness of these charges — District Judge Bonnie Jackson reportedly ordered Gaulden to wear a GPS monitor, pass a domestic abuse program, attend counseling, and partake in community service at the New Orleans Mission. Other conditions, which may seem a bit obvious, demand Gaulden stay in Louisiana for the next six months, and to live in New Orleans. Unfortunately for him, he's been legally prohibited from going to any clubs or bars, and has been ordered to stay away from social media — in addition to beginning the process of getting a GED. 
Foreseeing Gaulden adheres to these new conditions, we shouldn't be hearing a peep from YoungBoy until May 18, when the judge in question will reportedly review his probation.