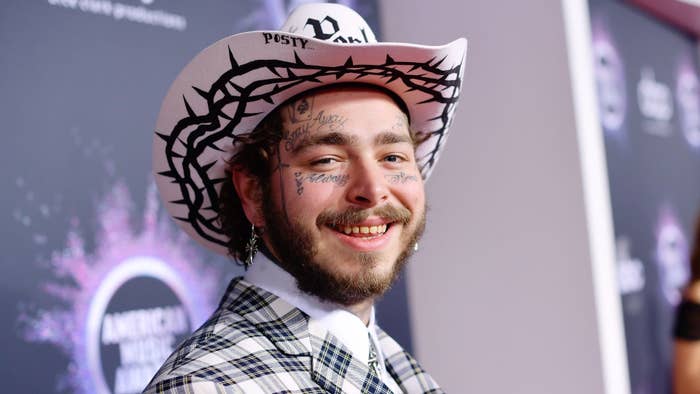 Post Malone's latest album Twelve Carat Toothache debuted at No. 2 on the Billboard 200 this week behind Bad Bunny's Un Verano Sin Ti.
Per Billboard, Twelve Carat Toothache scored Posty his fourth straight top five-charting project after moving 121,000 album-equivalent units. Hits Daily Double had previously projected that the album would move around 115,000 and 130,000 equivalent album units in its opening week. Had the album topped the chart, it would have marked the third No. 1 album of his career.
Twelve Carat Toothache dropped on June 3, with a deluxe version of the project arriving on June 7 with two additional songs. Posty also plans to release a cassette edition of the project on June 24, and a vinyl edition on Feb. 10, 2023.
While the "One Right Now" singer has been celebrating the release of his new record, he also revealed to Zane Lowe that he's "beyond pumped" to welcome his first child with his long-term girlfriend, and said he always thought being a dad would be so cool. He even had a doll when he was a kid that he would parent.
"I thought that was the coolest thing," he said of the doll. "I would take him around everywhere. And I don't know how long that lasted. But my mom still has it. And I guess, Zane, I'm so pumped up. I'm going to be a hot dad."
As for Bad Bunny, Un Verano Sin Ti spent its second week atop the Billboard 200 after it debuted at No. 1 back on May 21. The album moved 137,000 album-equivalent units and became the first album to exceed 100,000 equivalent album units in each of its first five weeks in 2022.