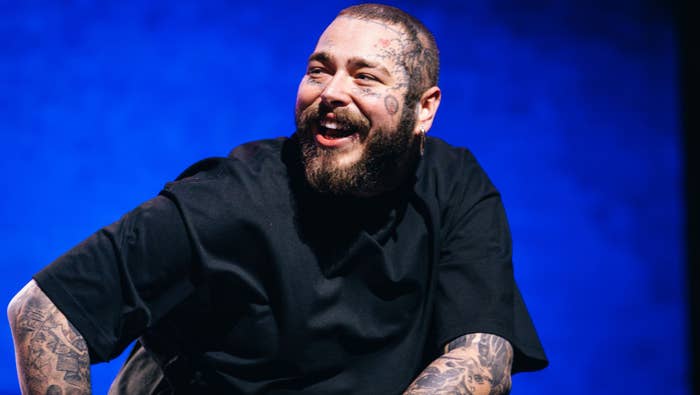 Post Malone's Twelve Carat Toothache has barely been out for a weekend, but experts are already making their predictions on how the LP will perform on the charts. 
As Hits Daily Double projected on Sunday, Posty's latest album is expected to land in between 115,000 and 130,000 equivalent album units in its opening week, with the possibility of him earning the third No. 1 album of his career on the Billboard 200. 
But there's a chance Posty may not chart at the top this time if Bad Bunny has anything to say about it. The global superstar's latest album is projected to show off some staying power in its third week, Hits reports, so only time will tell how things unravel.
Bunny's new album Un Verano Sin Ti landed an impressive 274,000 equivalent album units in its first week back in May, as we previously shared. This left Jack Harlow sitting in third place on the Billboard 200, when Come Home The Kids Miss You brought in 113,000 equivalent album units.
Post Malone's latest album was projected to land 250,000-275,000 in its first week earlier in the year, but reports are saying that now looks unlikely. 
"That's what the whole record is about. It's the bipolar aspect and the duality of everything," he previously told Lowe of the LP. "And so, there's a lot of things very much on this record that are tongue in cheek. And I think this whole record is the most honest record I've made, and I'm so pumped for people to hear it. But every song in there tells a story, so this is kind of like, 'Here's the life that we live, but there's always something going on in the background.'"