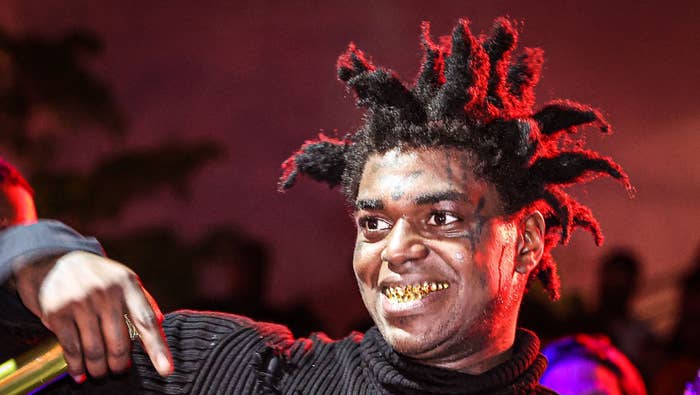 Cardi B isn't the only superstar with big baby news this week, as Kodak Black has announced he and his girlfriend are expecting a child.
Kodak's lawyer Bradford Cohen confirmed the news to TMZ, saying the Florida artist's real estate agent girlfriend Maranda Johnson is pregnant with a baby girl. The pair have been dating on and off for about four years, and she reportedly found out that she was pregnant in April, meaning that Kodak's daughter is set to arrive either late 2021 or early 2022.
According to TMZ, Black is "ecstatic" to be having a girl, and is apparently already shopping for gifts to prepare for her arrival. This will be the Haitian Boy Kodak rapper's second child, as he has a 6-year-old son, King, from a previous relationship.
Kodak himself confirmed on Twitter that his daughter is on the way, writing, "I Got Mo Shit I can B Petty Bout Or B Involved In...I Got Drops I'm Debating On...But No Matter How Much Da Dumb Shit Tickles Me My Daughter Otw Mo Important." He continued in a separate tweet, "Been Practicing Since Yesterday How I'm Finna B Callin Dem Lil N***as Phones & Shit...Runnin They Ass Off."
Fans speculated Kodak was expecting back in March when a video made the rounds of him trying out baby names on Instagram Live. He theorized whether Prince would be a fitting name for a son, but a woman could be heard in the background disagreeing, whom many believed to be the voice of Mellow Rackz. She got engaged to Kodak in February, a milestone they commemorated with tattoos of each other's names.
It is unclear at this moment if Kodak and Mellow are still together, and Complex has reached out to Black's attorney for further comment.
The happy news is a welcome change of pace for Kodak, who for months has been consumed in on-and-off drama with his label signee Jackboy. The two had a falling out earlier this year, and Jackboy recently fired new shots at Kodak, claiming he was the bigger Haitian rapper, and that the "ZEZE" spitter wasn't even Haitian since he's from Florida.
Kodak took offense to the statement and replied, per HotNewHipHop, in a flurry of now-deleted comments. "I been gettin money everything was Skr8 till Lil buddy touched some paper. … n***a ain't gotta be born in Haiti my momma & daddy from there & I speak my shit fluent," wrote Kodak, refuting what Jackboy claimed. "Lame ass Haitian talk like a dam white boy. … Jit stay on some hoe shit, I'll respond bra have all da clout you want."
Regardless, big congratulations are in order for Kodak and Maranda Johnson on the exciting news.