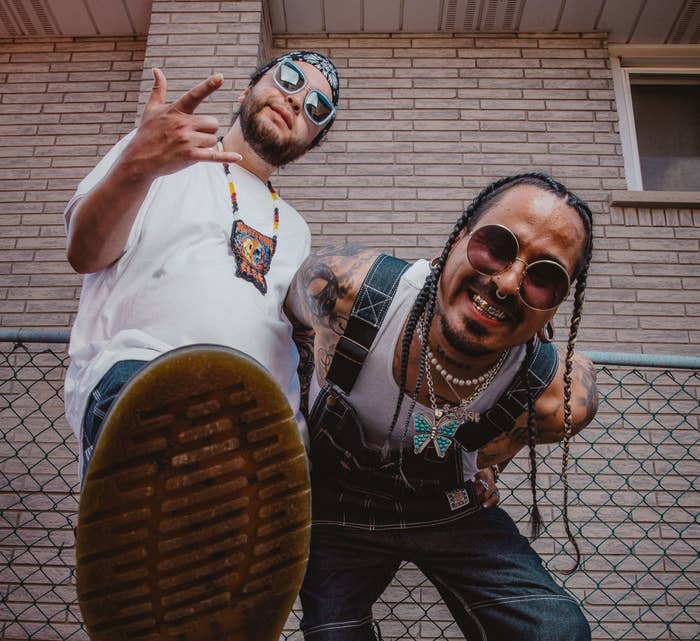 It's hard to keep up with new tracks every week. With a bevy of songs being released every day, we made a list highlighting some new tracks from Canadian artists. But before we get to that…
Drake, "BackOutsideBoyz"
We all know there's a new Drake album out. How could anyone not? Though Drake albums have rarely become a mystery, Drake still finds new ways to entertain, putting on his best Young Thug impression to help fill the void that's existed since Thugger's arrest.
Zach Zoya, "Come By Here"
Zach Zoya's voice has gotten increasingly better over the years. On "Come By Here," the Rouyn-Noranda native is tender, affectionate, and fully leaning into the R&B sound he's been leaning into lately.
Snotty Nose Rez Kids, "Damn Right"
Snotty Nose Rez Kids have never shied away from rapping over jagged, sharp beats, but "Damn Right" elevates that even more. Though clocking in under three minutes, the First Nations hip-hop duo makes every moment count, slicing and dicing their way through the beat.
City Fidelia, "Take Care"
City Fidelia's latest album Painkiller dives deep into the Ottawa-via-Montreal rapper's mental health, but "Take Care" is one of the most poignantly written, resonant tracks on the album featuring introspective bars and a heavenly chorus from Doressa.
Mormor, "Days End"
Mormor's indie rock psychedelia works best when he's heartbreakingly honest. "Days End" sees the Toronto-based artist use his tenor voice to sing about some of his most intimate moments behind a sparse, angelic beat. 
Dylan Sinclair f/Joyce Wrice, "Never"
Dylan Sinclair's No Longer in the Suburbs was already a great R&B project. On the deluxe, he teams up with Joyce Wrice for a softhearted, wintery affair that's best saved for date nights.
Tiësto f/Tate McRae, "10:35"
The Calgary hitmaker teams up with the techno king for a robotic banger.