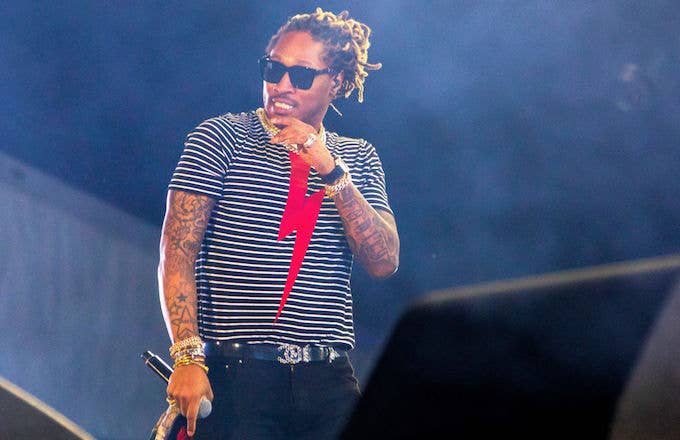 If there's anything we should know about Future by now, it's this: The man doesn't play by our rules. He plays by his own, at all times. (Don't believe me? Go listen to "King's Dead" again. I'll wait.)
As I was saying—Future is playing an entirely different game than his counterparts. He has a successful formula in place, a feat made possible by his pliable vocals. He delivers said vocals on his own schedule—in fact, he has a penchant for emerging from a self-imposed hiatus to drop a series of projects in a matter of months. And ladies and gentlemen: It's Future SZN.
Last Thursday evening, he posed a question on Twitter that caught many of his followers by surprise.
Should I give my fans a mixtape until my album complete?
"Should I give my fans a mixtape until my album complete?" he tweeted innocently. The query slapped Future fans everywhere across the face because: 1) He just dropped the Superfly soundtrack, which he executive produced, less than a month ago. It's pretty much a Future album in and of itself; and 2) Excuse me, he's been working on a mixtape and an album AT THE SAME DAMN TIME?
The answer to that question is apparently a resounding yes. Hours after asking his fans if they were ready for Super Future to go astronomically dumb yet again, the Atlanta rapper unleashed the 9-track BEASTMODE 2.
The relatively brief but potent tape is a worthy sequel to Future and Zaytoven's previous collaborative masterpiece, Beast Mode, which debuted in January 2015. By focusing on their strengths—Zay on his soul-infiltrating keys, and Future on the warbling sing-rapping that only he can pull off—the two have simply built a framework on top of the foundation they established long ago.
Future and Zay are slow to build on their house of trap domination, and it's intentional; in a recent interview with the Fader, Zaytoven said he and Future worked on a hell of a lot in order to give us 32 minutes of flames. "We recorded 100 songs just to give you nine," he said. "So that means we took our time to pick out what we feel like the audience would want."
We often complain when our favorite rappers are inconsistent—that they don't release material regularly enough, or worse, change their styles or adapt to popular flows too quickly. When they actually are consistent, like Future, it seems we complain even more.
Future will always have an important place in my life. His music is what let me know I'm too old to enjoy current hip hop because all of his music sounds exactly the same to me. Every song.
Futures music all sounds the same
Yes: In many ways, Future does still sound the same. But isn't that the point?
He's been speeding down the same codeine-slicked highway since the first Dirty Sprite in 2011, if not earlier. Instead of changing lanes like his contemporaries, he's stayed to the far left, foot on the gas, ignoring any temptation to slow down or pull over. He's a man on a mission.
Future is not a bastion of conservatism, by any stretch. Using his pop-up-and-drop method, he's been unpredictably prolific, and it's that steady outpouring of work that's moved him through each stage of leveling up into a superstar rapper.
With BEASTMODE 2, on tracks like the introspective "WHEN I THINK ABOUT IT," he continually reimagines how to wield his pain and rework it into sharper, cleaner bars. "I know they gon' try to misuse me/Patiently wait while they come up with solutions," he raps. This process is expressed most directly in HNDRXX's "Use Me" ("Just so you know, I need you to know how to use me/Tell me what you're usin' me for"), but evidence of Future retracing this line of thought can be found peppered throughout his catalogue. Channeling angst into art is Future's signature, and it's clear he's been working on its refinement.
On this tape, rather than experimenting, Future is focused on his method and his method only. By working with Zaytoven, one of his long-time collaborators and a production staple in the South, he's able to concentrate his energy on his lyricism—specifically, delivering consistent messages of overcoming, even in the face of haters and a bit of self-sabotage. We saw this level of exacting focus before, in 2015 when DS2 and What a Time to Be Alive dropped within months of each other, both produced by the trusted Metro Boomin. That partnership gave Future an elevated base level to operate from—no frills, gimmicks, or surprises to distract him from maximizing his pen game and vocal theatrics.
Looking at the spate of releases this summer, it's easy to point to other top rappers, like Kanye West and Drake, and identify their areas of clear experimentation. Kanye's whole G.O.O.D. Music production run was a trial. The albums themselves—minus DAYTONA—were sloppily presented, and sounded incongruous, like an indecisive child's coloring book filled with intentional drawings outside the lines. Drake's A side/B side double album approach, combined with his willingness to go deep into previously unfamiliar territories, like New Orleans bounce, is also a risk—but he is Drake, after all, and he tends to win when he just swings for the fences. "Nice for What," featuring a bounced Lauryn Hill sample and NOLA bounce pioneer Big Freedia, debuted at No. 1 on the Billboard Hot 100 and stayed there for seven weeks total. It was sonically a ways away from Drake's previous single, "God's Plan," which "Nice for What" actually dethroned from the top spot in the country.
Future doesn't want or need to take risks. He makes a certain type of album—one brimming with traumatic moments presented as bangers that are relatable for both trappers and people who buy Trapper Keepers alike—and he's fine with that. His biggest risk of recent memory is last year's HNDRXX, an LP delivered a mere week after the full-length FUTURE. Where FUTURE saw the rapper locking into his usual, energetically assertive savage mode, HNDRXX was an ostensibly pop project that revealed a slicker Future, one who saw the point in appealing to mainstream. He mastered a genuine but chart-friendly sound, one that he previously tried out back in 2014 with Honest; it was a gamble back then. While Honest didn't prove to be the most fruitful experiment of his career, it did set up a blueprint for Future to tinker with years down the line, without it seeming like a risk again.
On virtually every project he's released, Future been right in the pocket, exploring the life that he knows best, a flawed life that gives his equally flawed fans life in return. As surface as it may seem at times, Future's music is a mirror of self-discovery and acceptance writ large. With every track that drops, with every uttered lyric, you can hear it in his voice: Future has been tirelessly working on verbalizing his experience and turning it into his own form of art, the aural sketchings of a real one. And it shows.