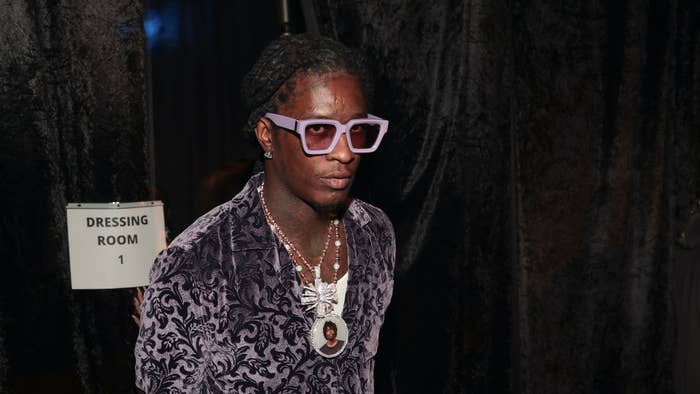 A co-defendant in Young Thug's RICO trial has been convicted of murder.
According to The Atlanta Journal-Constitution, Cordarius Dorsey—a.k.a. YSL Polo—was found guilty Wednesday in the 2020 fatal shooting of Xavier Arlandor Turner. The killing, which was captured on surveillance camera, took place outside a barbershop at the Old National Village Discount Mall in College Park, Georgia. Although the suspect's face was hard to identify in the security footage, Dorsey was spotted at the scene wearing the same clothes as the gunman; the man also fit eye-witness descriptions of the assailant.
Prosecutors also presented damning text messages the defendant had sent to friends shortly after the shooting. One read "bra I just killed another (n-word) on Old Nat," while another read "shawty, I just killed a (n-word) at the discount."
Dorsey, an alleged member of the Bloods street gang, was already serving a life sentence for another murder that was also caught on camera. The incident took place in 2019, when Dorsey allegedly shot and killed 39-year-old father Sulaiman Jalloh during an armed robbery outside a gas station.
The defendant's criminal history was presented to jurors during the six-day trial. Prosecutors pointed out that the man had embarked on a "one-man crime" spree between the 2019 and 2020 murders. They pointed to his social media accounts in which he allegedly displayed stolen jewelry and spoke casually about killing people.
"There exist people like Mr. Dorsey who just want to watch the world burn," prosecutor Gautam Rao said during Wednesday's closing arguments. "He has no problem taking the lives of other people."
The defendant was ultimately sentenced to life without parole plus an additional 55 years for the College Park murder. The AJC reports Dorsey's legal team intends to appeal the conviction.
Dorsey's latest murder trial was separate from the YSL RICO case, in which Dorsey, Thug, and other YSL associates are accused of participating in criminal street gang activity. Earlier this week, Thug's legal team asked the court to remove Dorsey from the RICO trial, stating his "unprofessional and unacceptable conduct in court" could prevent Thug from receiving a fair trial.
Judge Ural Glanville denied the request.