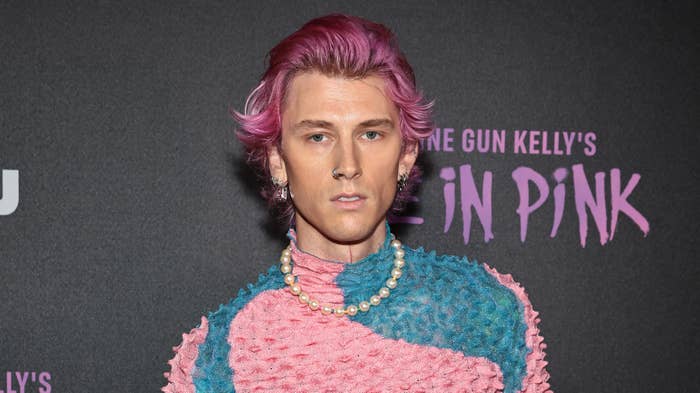 Machine Gun Kelly responded to an incident early Thursday morning involving someone who allegedly vandalized one of his tour buses. 
"You're so dumb," MGK said in a video on his Instagram Stories. "You spray painted a bus thinking it was my bus. Wrong bus, you fucking idiot. Do the first part of the crime right."
Leona Drake posted a video of the vandalized red bus on Facebook, depicting a penis ejaculating on one side of the vehicle, while the other had "rap devil" and a homophobic slur. 
MGK shared a video prior to the incident showing the yellow, blue, green, and red tour buses being driven to Nebraska for his show. "Taking the power rangers to OMAHA," he wrote. Judging from the "Bloody Valentine" artist's response, the red one wasn't his personal bus. 
The man born Colson Baker went on to mock the person for waiting until after 4:30 a.m., when he was away from the buses, to commit the crime. "You could've been at home cuddling with your partner, doing something, and instead, you were like, 'Goddamnit, I wish he would just go to his hotel room, so I can spray paint this dick," he said, laughing. 
According to the Omaha World-Herald, officers responded to a report of vandalism at about 9:40 a.m. and were able to easily remove the spray paint with mineral oil. No permanent marks remained after the clean-up. 
Machine Gun Kelly also mentioned that the spray paint was washed off before he ever had a chance to see their work, adding, "Aren't you sad? I'm still in bed, I didn't even get to enjoy it…you suck." Take a look at his response below.
A trailer also arrived today for One Way, an action-thriller starring MGK, Kevin Bacon, Drea de Matteo, and Storm Reid. It will be released in theaters and available for streaming on Paramount on Sept. 2.