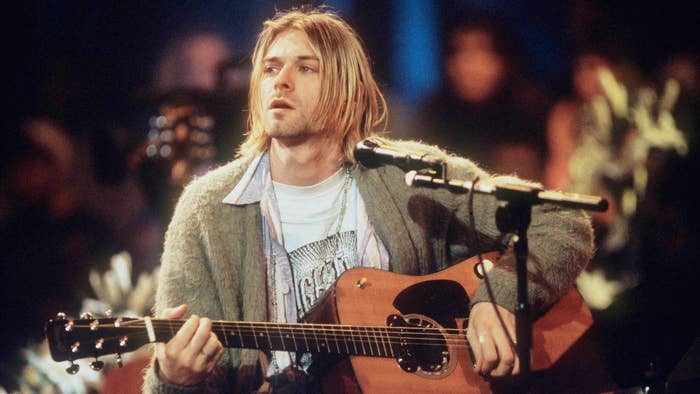 UPDATED, 6/21 10:15 a.m. ET: Kurt Cobain's guitar has sold for $6 million at auction.
The bidding for the instrument began at $1 million and mounted from there, with the guitar selling for exactly $6,010,000, an amount that Julien's Auctions told CNN set "a new world record for a guitar."
Australian businessman Peter Freedman, owner of Rode Microphones, landed the winning bid. "It's a big deal. I didn't even buy it for me. I paid for it but I'm going to use it to highlight the plight of artists worldwide by touring it around and then I'm going to sell it and use the dough for that as well, later," he told PA Media.
He added, "The musicians and artists have supported my family since the 60s. We've been in that game forever so I've been very lucky with Rode and I've been able to give away lots of money, quite a few mill."
Freedman said he would have paid anything for the instrument: "I was going to get it (the guitar)."
See original story below.
The guitar played by Kurt Cobain during his 1993 MTV Unplugged performance will be auctioned off next month as part of "Music Icons" sale where bidding is expected to start at $1 million, CNN reports.
Darren Julien, president of Julien's Auctions, which is hosting the sale of a number of items that belonged to the Nirvana frontman, explained in a statement why Cobain's Unplugged guitar could go for such a high price. "This important guitar has earned its rightful place in rock & roll history as the instrument played by one of rock's most influential musicians and icons in one of the greatest and most memorable live performances of all time," Julien said.
In addition to holding a significant place in music history, CNN points out that this item is particularly rare since only 302 of the 1959 Martin D-18E were made. This guitar also comes with a handful of customizations made by Cobain to the original hard-shell case, which is included in the auction lot, that make it all the more special. The case is decorated with a flyer for Poison Idea's 1990 album Feel the Darkness. There are three baggage claim ticket stubs still stuck to the handle, as well as an Alaska Airlines sticker.
Inside the case, you will find half a pack of Martin guitar strings, three picks, and a "suede 'stash' bag" that has been decorated with a miniature silver spoon, fork, and knife. 
This guitar was included as part of a divorce settlement between Isaiah Silva and its owner Frances Bean Cobain. Silva claimed that he had the guitar, which she allegedly gave to him as a gift, in his possession when she filed the paperwork in March 2016. The two were married for less than two years. 
The green cardigan Cobain wore during MTV Unplugged sold for $334,000 in October.