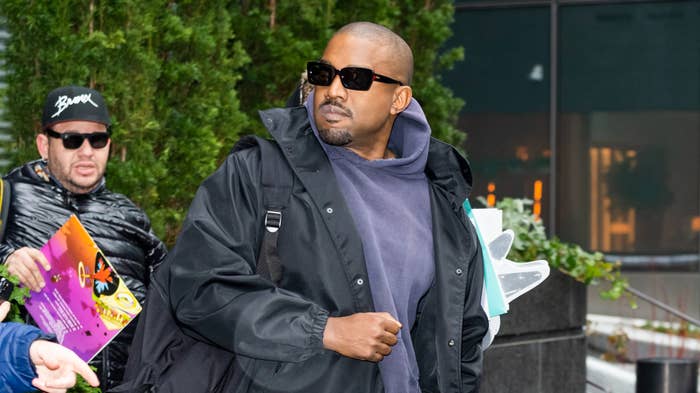 Kanye West revealed that he's nearly set to release a new song that might have Pusha-T, The Game, and DJ Premier on it later this week. 
The news came as Ye was talking with Premier in the studio over FaceTime. The video of the call, which was posted by designer Tracey Mills, starts with Ye saying that Premier is his "inspiration." As the two continue to talk, the multi-hyphenate gets The Game and Pusha-T, who were in the studio with Ye, involved in the conversation.  
When Premier asks for additional details, Kanye responded, "We're starting a whole…we about to just control the sound of music, it's up to us now, period." A short time later, Ye finally comes forward with the news and a request. "We got a song we're releasing Friday that we wanted you to do a scratch on, if possible," he asked. 
Check out the video below. 
West has been jet-setting quite a bit over the last few weeks, from wining and dining his girlfriend Julia Fox in Miami and NYC to encouraging an aspiring rapper to freestyle for him to linking up with Game, Moneybagg Yo, and Antonio Brown in Los Angeles. 
Moneybagg shared a recent text exchange with Ye where they discuss a collab for the follow-up to last year's Donda. While their convo confirms that West has his sights set on making Donda 2, Victor Victor Worldwide founder and Pusha-T manager Steven Victor said earlier this month that he has already "started working" on it. 
Stay tuned.