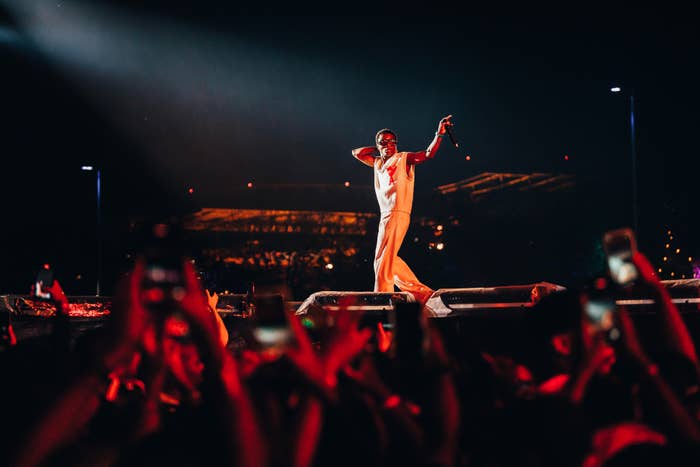 This past weekend, Rolling Loud touched down in Toronto for the first time ever and it was a star-studded affair.
Artists and fans alike poured into the city as the three-day festival took over Ontario Place from Friday to Sunday, proving that the event's illustrious reputation is nothing to scoff at.
After a series of smaller festivals went awry, Toronto—aka the "Screwface Capital" of the world—seemed hungry for something more legitimate to cap off the summer. Fortunately for everybody involved, that's exactly where Rolling Loud stepped in and took care of business.
Dave, Future, and Wizkid shared the privilege of headlining each respective night, but the likes of Skepta, A Boogie Wit da Hoodie, Nav, and countless others, made sure every day was as turnt up as the last leading into the evenings' unforgettable grand finales.
From the stacked set lists to must-shop merch booths, to the food trucks, the on-site Loud Club, and various VIP installations, the highs heavily outweighed the lows even in year one.
Here's how the first Rolling Loud Toronto went down, with the hope the festival reaches Canada again sooner rather than later.
High: The Lineup Was Deep
To be honest, where else are you going to see so many homegrown and international rap acts in one place?
Rolling Loud Toronto gave us all a chance to catch some of our favourite artists with standouts like Unknown T, Kaash Paige, Haviah Mighty, Destroy Lonely, and Skiifall all hitting the stage throughout the weekend.
Toronto's Paris Richards brought out Jully Black at one point for "I Got You." AJ Tracey did the same and surprised concertgoers with Dave for "Thiago Silva." Duvy and K. Charles got things going on Friday, while Saturday had Beam, Smiley, NLE Choppa, Pressa, Skepta, Tory Lanez, Roddy Rich, and Future (who did show a little late) perform back-to-back-to-back. Absolutely mad.
Then you had artists like Jazz Cartier, Lancey Foux, and Lil Yachty put on great shows away from the main stage, plus Central Cee killed his entire set especially when he dropped "Doja" at the end.
Seeing Sheck Wes perform "Mo Bamba" in front of a massive crowd of people was something to behold, and Don Toliver proved to be a fan favourite when his visual-heavy performance lit up the BET99 stage.
High: The Headliners Were Massive
The headliner picks of Dave, Future, and Wizkid were unique.
Last week in an interview with Complex Canada, festival founders Matt Zingler and Tariq Cherif acknowledged the diversity of Toronto and how that could translate into a Rolling Loud lineup. So when you think about it in this context, it makes more than enough sense.
Dave's arguably been a superstar ever since he received that huge cosign back in 2016 when Drake hopped on his "Wanna Know" remix. At his show, however, not only did he nod to this fact but he also flexed his artistry with guitar and piano in hand.
Future is… well… Future. The Atlanta native recently released I Never Liked You in April of this year, but that didn't stop him from running through a slew of hits from his previous albums and mixtapes.
And Wizkid followed suit, putting on a mesmerizing show backed by a full band ensemble with singers, fireworks, and pyrotechnics in full effect. Hearing the Made in Lagos Starboy jump from "Energy" to "Essence" was a spectacle, and the vibes never let up as he danced on stage for the entirety of his hour-long set.
High: The Festival Experience Was Full of Extras
Between the main grounds and VIP sections of Rolling Loud, there was something for everyone.
Water was freely available and food vendors were lined up all over the place. You could spend your whole Rolling Loud experience without issue anywhere you went — and depending on how you felt, it might've been more fun to be part of the massive mosh pits than the secluded VIP sections on the sides.
But if you did opt for the VIP experience, you were able to receive tons of different perks like free tattoos, free haircuts, free hair treatments, shorter lines to exclusive merch, and access to the Loud Club.
Low: Last-Minute Changes Made It Unpredictable
To be honest, last minute changes were to be expected.
There are so many variables to consider at any given moment, and while it's unfortunate Lil Uzi Vert and Fivio Foreign had to drop out, you could tell Rolling Loud tried to make amends. They added Tory Lanez to Saturday's lineup and Bleu joined the festival on Sunday. Then there was the Ice Spice guest appearance during DJ Charlie B's set.
Even Future was delayed by about an hour on Saturday night. There are just some circumstances outside of anyone's control and Rolling Loud Toronto handled everything as well as possible.
Low: Conflicting Set Times Meant Tough Choices Had to Be Made
This is another obvious one.
There was a good chance fans had to make some hard decisions over the course of the weekend.
Do you watch $NOT or Sheck Wes? Wizkid or Polo G? Dave or Rae Sremmurd? No one had the answers. You either had to finesse your way through the crowd to try and catch a bit of everything or stay in one place and miss out on something else.
Unfortunately, fans couldn't be everywhere at once and tough choices had to be made.
Low: Crowds Made It Tough to Get Around
It goes without saying, but at a festival of this magnitude, you're going to have to deal with crowds.
Luckily, it's not so much of a lowlight as it is an unavoidable fact of the matter. As noted above, after about one day, concertgoers definitely figured out how to move around more efficiently in order to see the shows they wanted to.
The festival grounds weren't outrageously spread out, either. So all you had to do was be wary of the scheduling to make sure you made it in time for the next act.
Final Thoughts on the First Rolling Loud Toronto
All in all, Rolling Loud Toronto lived up to the hype.
For a festival like this to run relatively smoothly is a feat in and of itself, so having Rolling Loud finally arrive in Toronto and work out was a very special moment. Considering it was not too long ago the entire city was in perpetual lockdown, having rap's premiere festival in our backyard to close out the summer was a welcome break from the routine.
The only thing left to ask is: When is Rolling Loud coming back to Canada? According to their official Twitter, we may not have to wait long.