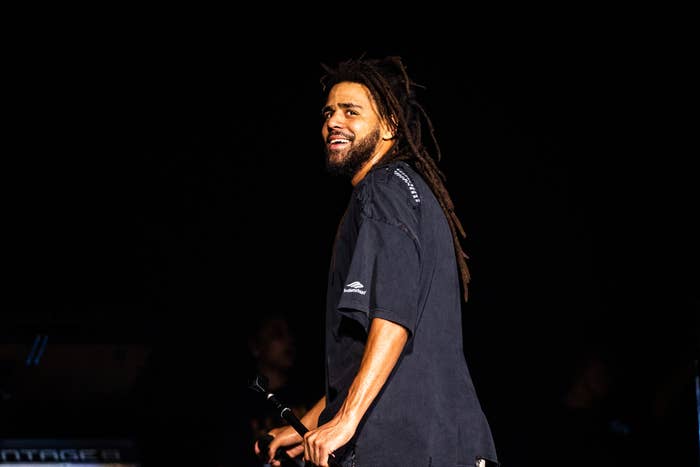 J. Cole is in album mode…we hope. The Dreamville commander-in-chief kicked off 2023 by wiping his Instagram, which has led fans to believe that he might be preparing to release the next project in his "Fall Off Era." Cole first revealed the plans for his "final" run of projects back in November 2019 when he shared a series of album titles under the "Fall Off Era" banner, including The Off-Season, It's A Boy, and finally The Fall Off.
"A long-term plan of becoming the best rapper I could possibly be before hanging up my jersey, leaving nothing on the table when all was said and done. The seeds for The Fall Off were planted," Cole wrote in an essay for The Players' Tribune in 2020. "The fire that was once dying out has returned, and for that I'm grateful. On my career bucket list, there remain a few more items to check off before I give myself permission to enter whatever the next chapter of my life may be."

We already got The Off-Season in May 2021, along with an extensive basketball-themed rollout that included Cole becoming the first rapper to be on the cover of SLAM magazine and his professional basketball debut in Rwanda. Since then, Cole has gone on tour, headlined several festivals including Rolling Loud New York, Governors Ball, and his own Dreamville Festival, as well as worked with a plethora of established and up-and-coming artists like Smino, Bia, and more. All the while, his next project (rumored to be titled It's A Boy) has been lurking in the background as J. Cole continues to meticulously check off a few more goals before he scrams. 
Cole hasn't explicitly said anything about It's A Boy yet, but with the series of bread crumbs he's left behind over the last 4 years, here are our biggest theories about his seventh studio album, ranging from extremely plausible and strong to pretty mid and weak.
Strength: Strong
Despite popular belief, it still has not been confirmed that J. Cole's next studio album will be titled It's A Boy. The name was discovered after Cole shared a breakdown of what he's calling "The Fall Off Era," which included titles like The Off-Season and It's A Boy before concluding with The Fall Off. What strengthens this theory is that Cole referenced the project by name during his visit to Kevin Durant's podcast The ETCs when talking about the albums he was working on. "You want to go into [the studio] when you miss it for real," Cole said during the episode. "So, that took six weeks, and after that it was the best decision I made because, after that, I came into the studio with full clarity, like, 'Okay, Off-Season, boom. The Fall Off, boom. It's A Boy, boom. I just started chipping away." This episode was also released right after The Off-Season dropped, which means Cole might have been tinkering with all of the albums in his Fall Off Era from the beginning. 
Strength: Strong
The most popular theory swirling right now around the alleged title It's A Boy is that the project is referencing the birth of one of Cole's sons. The Carolina rapper revealed that he had his first baby boy during his 2018 interview with Angie Martinez, where he talked about how his purpose in life was to be a good "father and husband." He later rapped on his track "Sacrifices" off 2019's Revenge of the Dreamer 3 that he was expecting a second son as well. "She gave me the gift of my son, and plus we got one on the way," Cole said in the song. It's A Boy would fall perfectly in line with a concept album about Cole's life as a father, something he's kept quiet about outside of bars about wanting to keep his personal life private. Given the point he's at in his life and career, it would make sense that he's ready to make his dad album.
Strength: Strong
Cole is no stranger to making music about being a family man (google the memes associated with his 4 Your Eyez Only cut "Foldin Clothes" for references), but It's A Boy has the potential of being his most personal album to date. His 2016 concept album 4 Your Eyez Only focused on fatherhood from the perspective of his childhood friend who died. He then dedicated the album to his friend's daughter. With a rumored name like "It's A Boy," it's very likely that Cole covers similar topics—this time, from his own perspective. 
Smino told Complex that Cole wanted his single "90 Proof" for his next album, and the Dreamville founder's verse on the track sounds like it would fit perfectly in an album about his family life. "I bought a condo and it's cozy, my neighbors nosey as fuck/They see a young nigga walked in with his kids/They don't know who he is, they just know that he up," he raps. Cole seldom talks about his kids, so opening his verse this way on a song he originally wanted for his next album is a good clue for what its subject matter might be.
Strength: Mid
Cole's 2022 feature run was reminiscent of the wicked streak he started back in 2018-2019. This past year, Cole worked with artists like Smino, Bia, YG, and Benny the Butcher in addition to the verses he delivered with artists from his Dreamville camp, like EarthGang and JID. This push for new and unique collaborations might be a sign that It's A Boy could feature several different artists. Cole said during his Revenge of the Dreamers 3 documentary that he wanted to work with more artists because the memes about 2014 Forest Hills Drive going triple platinum with no features were getting old, and he didn't want to be known as an artist who never connected with others. 2021's The Off-Season features Lil Baby, Morray, 21 Savage, 6lack, and more; this next project offers the same possibility of more collaboration.
Strength: Weak

This is where we get into real conspiracy corner territory, but a few fans on Dreamville Reddit threads believe the album might arrive on Cole's birthday, Jan. 28. While most believe It's A Boy is in reference to Cole's firstborn son, others think he's actually talking about himself, thus "It's A Boy" would be in reference to his own birth. While this would still coincide with a family-oriented concept project, we already know a lot about J. Cole and his upbringing. The only reason this theory holds a bit of water is because of the timing of Cole's social media blackout. The last time he wiped his Instagram account of all posts in May 2021, he announced that The Off-Season would be dropping two weeks later. Given the fact that Cole has gone radio silent at the beginning of his birthday month, it could mean that he's gearing up for a Jan. 28 release date, regardless of whether that will hold meaning toward the album.