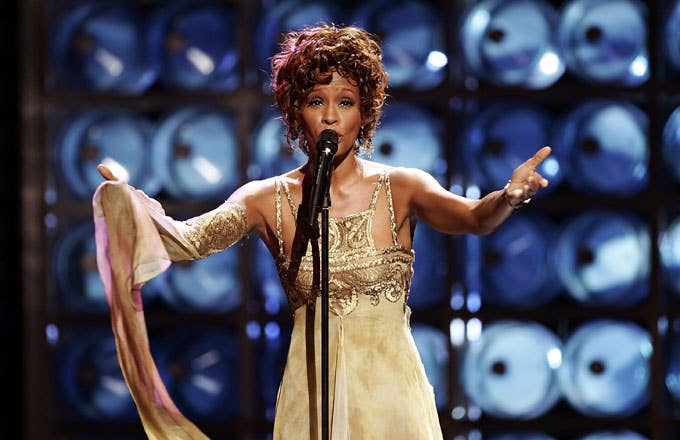 Following years of turning down every idea that has been pitched to them, Whitney Houston's estate is now making moves to capitalize off the image/catalog of the late singer/actress. The New York Timesadds that projects currently in the works include: a touring hologram, branding deals, an album composed of unreleased tracks, and possibly a Broadway show.
"Everything is about timing for me," said Pat Houston, who triples as Houston's former sister-in-law, in addition to being her ex-manager, and the executor of her estate. "It's been quite emotional for the past seven years. But now it's about being strategic."
The estate just inked a deal with Primary Wave Music Publishing  to rebuild Whitney's business. The deal valued Houston's estate at $14 million, and the deal will give Primary Wave half of its assets from royalties, merchandising, and Houston's name and likeness.
The hologram (which, worth noting, has been attempted before) is reportedly taking precedence and thus is already being developed. It's set to sing her hits alongside her original band and backup singers, including her brother Gary. Despite assurances that the projection will be done tastefully, whether you find that detail morbid or the-future-in-action probably depends upon the eye of the beholder. In either event, the tentative title for the tour will be An Evening With Whitney: The Whitney Houston Hologram Tour. It's currently on track for early 2020.
BASE Hologram will create the Houston hologram and their CEO, Brian Becker, toldRolling Stone that "We will substantially increase our use of the creative elements that are available to us with this technology because it is cinematic, which means we can do animation and special effects to really enhance the show."
The Times adds that the estate is also seeking, in part, to restore Houston's reputation as the singer had a public struggle with drugs that made her a target for tabloids and relatively easy jokes in the last several years of her life. A 2018 documentary called Whitney, which had been authorized by her estate, also took an unwavering look at the undoing of her career and image.
"Before she passed, there was so much negativity around the name; it wasn't about the music anymore," Pat Houston added. "People had forgotten how great she was. They let all the personal things about her life outweigh why they fell in love with her in the first place."
The move represents just the latest in a line of similar ones from New Wave, who previously made deals with older (but still living) artists, like: Smokey Robinson and Kenny Loggins. Additionally the company recently acquired $500 million from investors that include "(unnamed) large asset managers and at least one state pension fund."