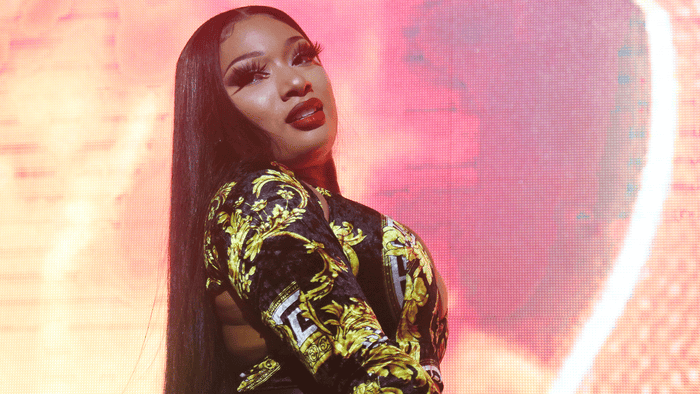 A day after publicly airing grievances she had with her record label (1501 Certified Entertainment) on an Instagram livestream, Megan Thee Stallion has filed a lawsuit against that company and its CEO, which would be ex-baseball player Carl Crawford. For those who haven't been following or need a brief reminder, Megan's main contention is that 1501 isn't letting her release new music because she wanted to renegotiate her contract.  
According to TMZ, a Harris County, Texas district judge is giving Megan a temporary restraining order which means her label can't block music she plans to put out on Friday. Cue this tweet:
This restraining order will also seek to prevent the label from attacking her on social media (more on that in a sec).
The lawsuit spells out what Megan considers to be the worst parts of the deal she has with 1501. She says that she got a $10,000 advance when she signed, and that the label gets 60 percent of her recording income. Of the 40 percent she gets she still has to pay engineers, mixers, and other artists who are featured on the tracks.
She also has an issue with income from live gigs, which she claims are more beneficial to the label than they are to her as 1501 has the rights to 30% of the money she makes from performances. That 30% number also goes for merchandising. 
She further says in her suit that money from touring and performances goes directly to 1501. Megan says they're supposed to give her a statement for what she's owed, but that their accounting has been "purposefully and deceptively vague." The suit goes on to say that Megan has over one billion streams and 300,000 individual track downloads. That translates to around $7 million but the label has only paid her $15,000, Billboardreports.
She also says that Crawford has utilized a relationship he has with J. Prince, Rap-a-Lot Records' founder, for the purpose of intimidating those within the industry. The suit specifically claims that Crawford pressured a producer to give him beats because Prince would be pissed if he didn't. Megan further believes that Prince has played a role in a smear campaign against her, with the recent resurfacing of a five-year-old arrest being an example of that alleged campaign.
The suit names Crawford (but not Prince), as well as the label. MTS is looking for at least $1 million in damages. 
Additionally a hearing is scheduled for March 13 to decide whether to end or extend the temporary restraining order.
"We are very happy the Court granted our TRO Application, and thrilled that the world should be able to now hear Megan's new music on March 6," Megan's lawyer Richard Busch said, per Billboard. "We will now proceed with the other claims set forth in the Petition."