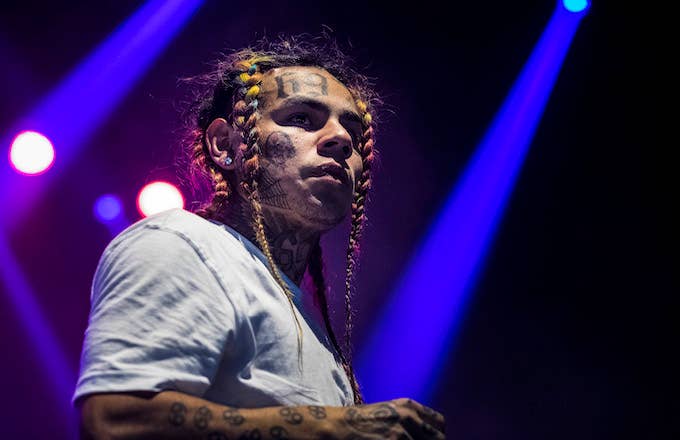 Earlier today, it was reported that 6ix9ine (along with his former manager and a pair of other suspects) had been arrested on racketeering charges. Their arrests had been the end result of a collaborative investigation that the ATF had with assistance from Homeland Security Investigations and the New York City Police Department.
The initial report was vague, but now the first of what is certain to be several details on the charges have been released. According to TMZ, the 17-page indictment shows that 6ix9ine is facing six counts, with the most serious of those being the discharging of a firearm while committing a crime. The punishment for that charge would have a mandatory minimum of 25 years in prison, and could potentially carry a life sentence. He and his crew have also been accused of conspiring to commit crimes that include armed robbery, drug dealing, and shootings. 6ix9ine's ex-manager, Shottie, is in equally hot water as he also faces the same six counts as his former client.
According to prosecutors, the acts of violence that have been alleged were reportedly about protecting the Nine Trey Bloods gang's drug business, retaliating against gang rivals (including those who were deemed "disloyal" to the gang), and for the sake of promoting their violent reputation.
Law enforcement believes that 6ix9ine (real name Daniel Hernandez) and his associates were dealing pot, heroin, MDMA, and fentanyl throughout New York City. They also think that the rapper committed an armed robbery against rival gang members on April 3 alongside Shottie and a pair of Nine Trey Bloods members as part of a gang initiation.
U.S. attorney Geoffrey S. Berman released a statement, which said:
As alleged in the indictment, this gang, which included platinum-selling rap artist Tekashi 6ix 9ine, wreaked havoc on New York City, engaging in brazen acts of violence. Showing reckless indifference to others' safety, members of the gang were allegedly involved in robberies and shootings, including a shooting inside the crowded Barclay's Center, and a shooting in which an innocent bystander was hit. Thanks to the extraordinary work of HSI, ATF, and the NYPD, the defendants will now face justice in federal court.
As was reported by the New York Daily News, the indictments date all the way back to 2013. 
6ix9ine's attorney Lance Lazzaro attempted to get his client released on $1 million bail by offering that the rapper be placed under house arrest and for him to surrender his passport, Rolling Stonereports. Bail was denied and 6ix9ine remains in federal custody. If he's convicted on all charges, 6ix9ine faces a minimum of 32 years in prison.
Daily Beastreports that 6ix9ine was warned by federal agents that he was in danger from his crew. They reportedly offered to move the rapper to a hotel to protect him but he declined. The publication reports that investigators, while using a wiretap, heard 6ix9ine's former associates saying they wished to "super-violate" him. The news of 6ix9ine's arrest, as well as the reported animosity towards Hernandez from his associates, comes on the heels of the rapper's recent decision to fire his whole team. 
This Tekashi6ix9ine case is getting real weird. Feds just said they only busted him Sunday because he was planning to go to Foxwoods casino after FBI warned him he was a target of Bloods who wanted to "super violate" him
Tekashi, who faces a minimum of 32 years if convicted of all racketeering and firearms charges, looked shaken during the hearing today.
"Members and associates of the Enterprise promoted and celebrated the criminal conduct of the Enterprise, namely narcotics distribution, acts involving violence, and the use of firearms, in music and on social media," prosecutors said in court, perPage Six. "The purposes of the Enterprise included preserving and protecting the power, territory, and profits of the Enterprise through acts involving murder…and threats of violence."
"Daniel Hernandez did not get involved with any of these individuals until 2017," Lazzaro said in defense of his client. 
This post was last updated at 12:50 a.m. ET.