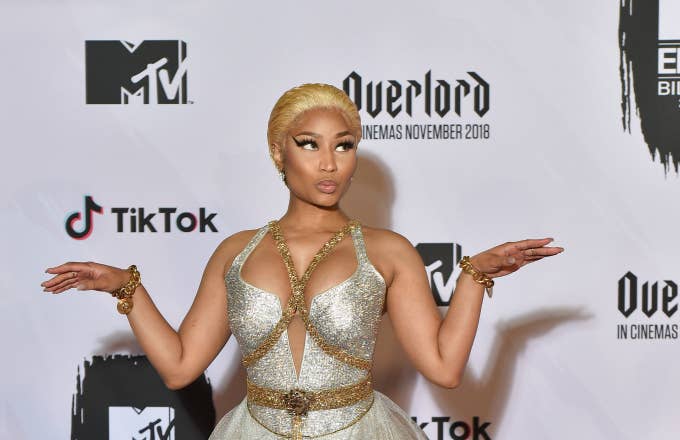 Kanye West has transformed his Yandhi project into a gospel album called Jesus Is King. Now that Kanye has set a release date for Oct. 25, fans are wondering about the former collaborations that were supposed to appear on Yandhi.
During a conversation with The Shade Room, Nicki Minaj revealed that her feature with 'Ye is trying to work into the new concept of Jesus Is King.
"What's funny is that I did a song with Kanye, that he now wants to transform into a gospel song," Minaj said in regards to their highly anticipated track "New Body." She went on to explain that Kanye's new direction has caused a creative tug-of-war. "I done wrote three different verses chile, and I don't know. We ain't seeing eye to eye on it. I don't know, but of course, I love and respect Kanye, and Kim, we'll see what happens with that."
Kanye has been teasing "New Body" for awhile now. In addition to Minaj, Ty Dolla Sign was tapped to provide the song's chorus. Initially, the song was supposed to address the issues of slut-shaming and body shaming. Although the song has a positive message, it doesn't fit into Kanye's new path in life.
During an interview with West's pastor Adam Tyson, he explained Yezzy almost quit rapping because it's "the devil's music." Tyson claims that he convinced 'Ye to rap for God, and it appears he took Tyson's advice to heart. A verison of "New Body" was played during his exclusive listening sessions in September that was reworked entirely, but knowing Kanye, fans could hear an entirely different version later this week.