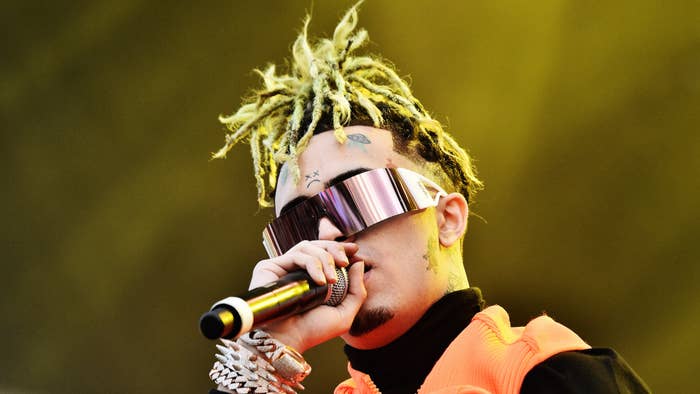 UPDATED 5/12, 10:30 a.m. ET: Four people suspected of breaking into Lil Pump's cars were captured on camera, TMZ reports.
"Cops say surveillance video shows the suspects looking inside the cars before one of them smashed the left rear panel of the Range Rover and swiped a cosmetic nail kit worth $600," the outlet writes, citing a Miami Peach PD report it received. "Cops say another suspect is seen getting into the Wraith through an unlocked passenger door, though that person apparently didn't take anything."
When another suspect bashed in the back windshield of Pump's Rolls-Royce Cullinan, an alarm sounded and scared the vandals away. All four are still at large.
See original story below.
Lil Pump was beside himself after vandals broke the windows out of his luxury vehicles. 
On Sunday, Lil Pump took to Instagram Live to issue a warning to whoever decided to ruin his Mother's Day by smashing the windows out of his car.
"Bro. I'mma catch you," Pump said while showing viewers his damaged cars. "Whoever did this, I'mma catch you and I'mma blow your brains out, bitch. … Step foot in my yard again. I want you to step foot in my yard. I'mma be up for three days straight. Come in this bitch. I fucking dare you. That's a free body for me."

As he's spazzing on the unidentified assailants, Pump lets those on his Live get a quick look at the semi-automatic pistol he had by his side while evaluating the damage.
Although it's not known who vandalized Pump's car, it's safe to say that the rapper has made a lot of enemies as of late. During the election season, Pump found himself on the wrong side of the country by supporting Donald Trump (who didn't even know his name). He also went after Eminem who has a very dedicated and loyal fan base.