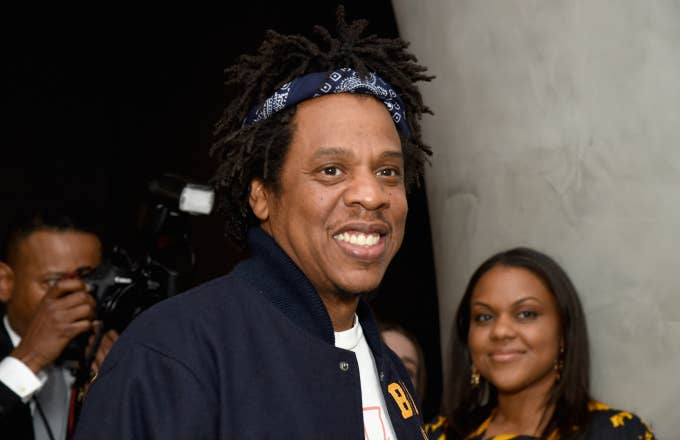 The vibe must still be in his veins. On Tuesday, it was announced that JAY-Z has returned to the game, but this time he's legit.
In a statement, JAY-Z detailed his multiyear partnership with the California-based cannabis company Caliva. Per Caliva, Jigga will serve as the company's chief brand strategist with the goals of molding the creative direction and increasing Caliva's outreach efforts. Hova also has a societal interest in the industry. Outside of marketing the brand, JAY-Z wants to increase the "representation and participation" of those with criminal records who are prohibited from participating in the growing industry. 
"Anything I do, I want to do correctly and at the highest level," Jigga's statement read. "With all the potential in the cannabis industry, Caliva's expertise and ethos make them the best partners for this endeavor. We want to create something amazing, have fun in the process, do good, and bring people along the way."
Caliva currently operates a farm and two stores in Northern California. The company focuses on community outreach by offering steady jobs to those affected by the San Francisco-area wage gap. To have their efforts recognized by the God MC is something Caliva CEO, Dennis O'Malley, described as "humbling."
"For Jay-Z to seek out Caliva as a partner is humbling and confirms our mission of being the most trusted name in cannabis," O'Malley told Rolling Stone. "To find that we were in complete alignment around our values and ethos was just a home run. We believe this partnership is unparalleled in this or any business and we could not be more pleased to be working with him and have him as our Chief Brand Strategist."
JAY-Z isn't the only celebrity intrigued by Caliva's "ethos." At the beginning of the year, the venture capital firm of NFL Hall of Famer Joe Montana helped the company raise close to $75 million.
This new venture adds to JAY-Z's latest winning streak. On Thursday, The Blast announced that JAY-Z has reached a settlement with Raynard Herbert, who claimed he was entitled to royalties from the Reasonable Doubt album. Per documents obtained by the site, Herbert and Hova reached an agreement that resulted in the case being dismissed without the option to refile. Also, JAY-Z's raise from friendly neighborhood drug dealer to hip-hop's first billionaire will finally be documented. In an exclusive report to Entertainment Weekly, Michael Eric Dyson revealed he will be writing out JAY-Z's journey in a book titled, Jay-Z: Made in America. The book is currently available for pre-order and will hit the shelves on Nov. 26.