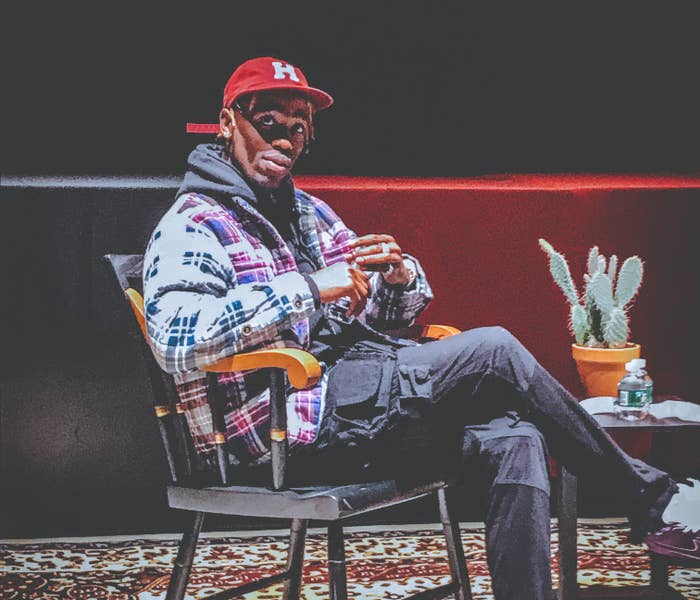 "I'm applying to Harvard in a couple days," Travis Scott tweeted on Monday. "And I really am excited!"
The idea of Travis enrolling at Harvard took most of us by surprise, but it didn't totally come out of left field. A day before his tweet,  Travis visited Harvard for a "Master Class on Creativity" organized by a group called No Label.
"We wanted our attendees to engage with a creative who defies the labels placed upon them and could speak to the journey of staying true to one's vision," No Label says of their decision to invite Travis to speak. "With his creation of ASTROWORLD, Travis Scott has done just that."
Free tickets for the event were gone within 30 minutes and 500 students were able sit in on the talk. An attendee named Atri Raychowdhury sets the scene for Complex: "It was an intimate conversation. Travis sounded very authentic, honest, and at times vulnerable. Sickamore did an excellent job moderating, allowing Travis to go off on streams of thought. I would describe the energy in the room as very open-minded, accepting and safe; it was powerful seeing students of such varied backgrounds, genders, ethnicities all coming together at an esteemed institution like Harvard. It doesn't get more beautiful than that. I think Travis reciprocated this energy as well—he sounded very free, spoke from the heart, and genuinely looked to impart wisdom to every student in the room."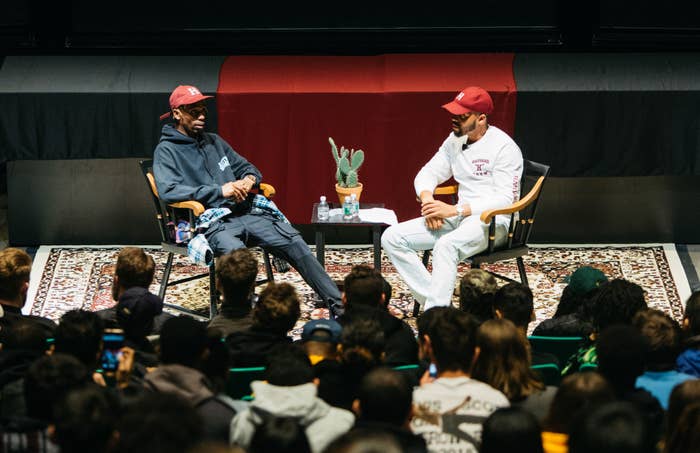 So, what did Travis Scott have to say about creativity? Raychowdhury says, "For me personally, the biggest takeaway from Travis' talk is this: Creativity and inspiration always comes from one's life experiences. To maximize creativity you must actually live life to the fullest—not behind a screen. You need to be somewhat fearless and not afraid to take risks. Push yourself to be innovative, but at the same time be true to your vision. Push yourself to expand your boundaries but in an organic manner. This 'push' is easier when you are motivated by something bigger than yourself. Travis talked through all of this, sharing supporting evidence. He also talked through areas of his own creative process which was really illuminating. To me it was as if someone took two puzzle boxes, took pieces from each set, and put them together to create a new mosaic and creation."
Travis also made a point to set up a distraction-free environment. "He stopped mid-way through a train of thought, paused, and locked eyes with a student in the back row who was photographing with a mobile phone," Raychowdhury explains. "He politely told them to put the phone away. He emphasized we should all be living life in the moment and to 'just feel the vibe.' It lightened the room and was received with cheers and laughter."
Touching on the overall message that Travis was trying to impart on the students, Raychowdhury says, "To me, the thesis of the entire presentation was: Live in the moment. Have fun, be open to new experiences, and always stay creating dope shit." He adds, "Hopefully by sharing this it can provide a creative spark and spread beyond Harvard walls—not only for artists, but also technologists, digital marketers, future start-up CEOs, and politicians."
The team behind No Label spoke with Complex about Travis' visit and the goals they have for the No Label Uncut conversation series. Read the full interview below.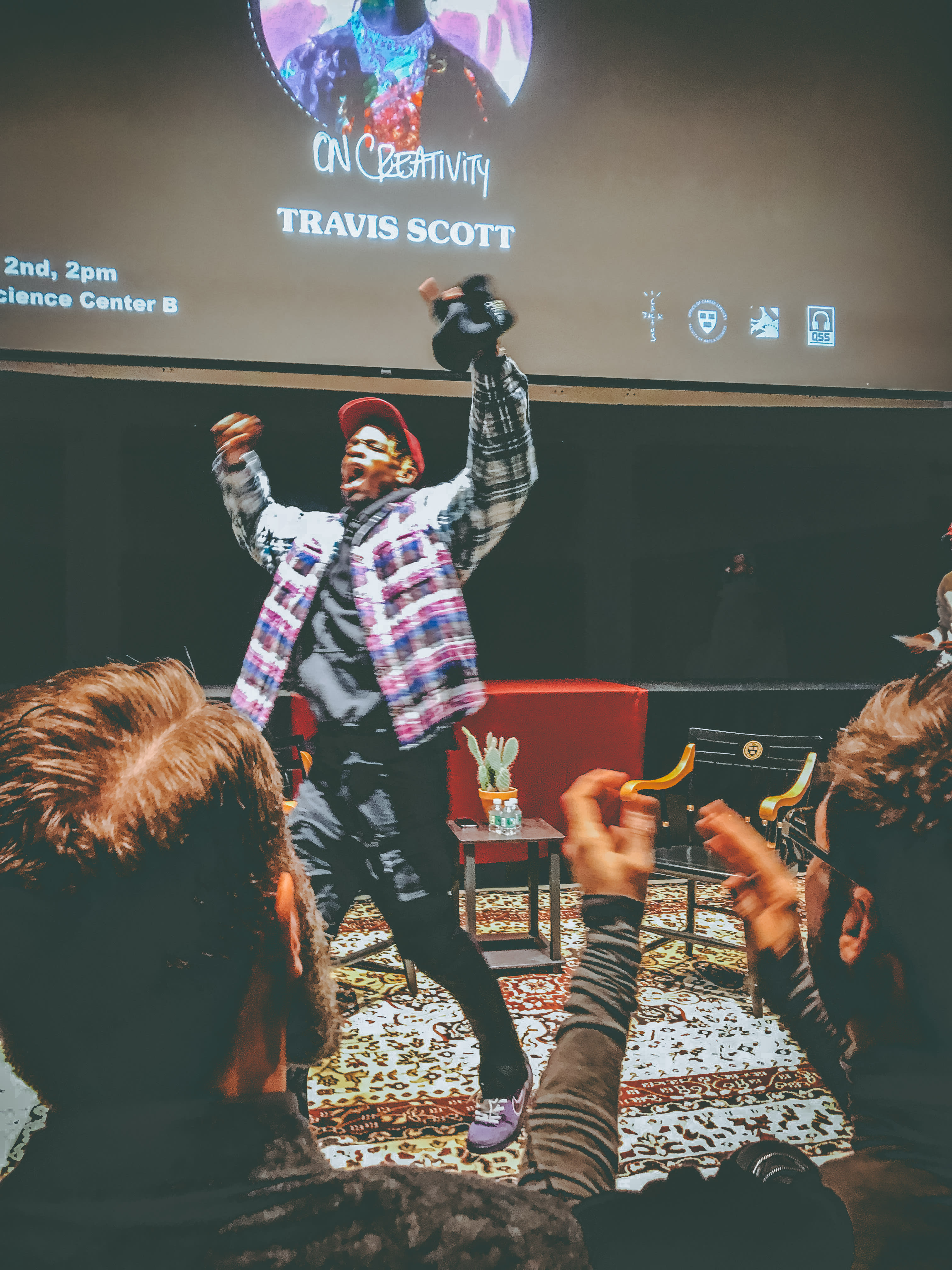 What is No Label?
No Label creates memorable experiences around artists and music discovery. By curating these experiences, No Label serves as a launchpad for artists to both connect with industry experts and build a community around authentic art. When we launched No Label in September 2018, we wanted to challenge mainstream categories and labels that restrict the work of up-and-coming and established artists. Our mission is to build a safe space for artists to share their stories, while simultaneously being able to learn from established creatives that have experience in the industry.
What is No Label Uncut and how long have you guys been doing it?
No Label Uncut is a monthly speaker/conversation series. The objective of the series is two-fold: to provide artists and industry professionals with a platform to talk authentically about the things that matter to them, and to provide attendees with the opportunity to learn from some of the most prolific people in the industry. The Uncut series started at the end of September 2018 with our kick-off event featuring Dre London. Our second event was in November with 6lack and LVRN.
Why did you think Travis Scott would be a good speaker at No Label Uncut?
No Label Uncut strives to curate discussions and opportunities for artists with uncompromising visions. We wanted our attendees to engage with a creative who defies the labels placed upon them and could speak to the journey of staying true to one's vision. With his creation of ASTROWORLD, Travis Scott has done just that.
To say the least, the experience was an intimate and memorable one for many of the students who were able to attend. Moderated by Sickamore, the discussion focused on the inspiration behind ASTROWORLD, Travis' growth as an artist, and the obstacles he faced in his journey to becoming one of the most renowned creatives in the industry today. A few students from the audience were also lucky enough to ask questions during the live Q&A section following the discussion.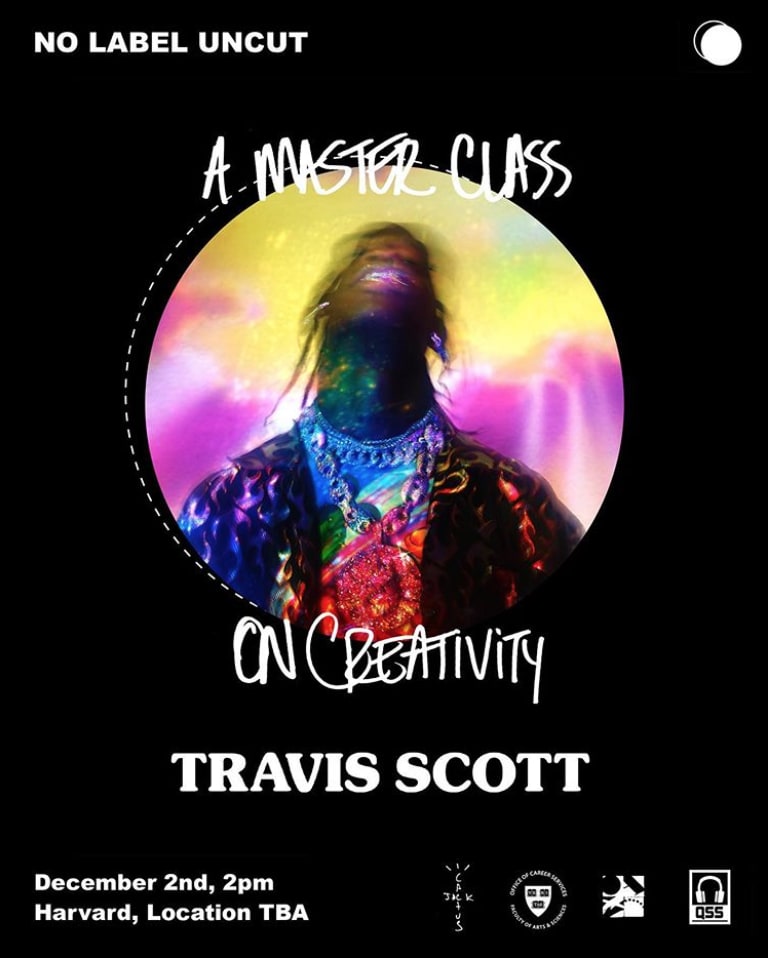 It wasn't just Travis, right? Sickamore and Chase B were involved, too?
We had the privilege of having Sickamore moderate the discussion. Chase B and RAYSCORRUPTEDMIND attended the event along with White Trash Tyler, who filmed. Having so many talented creatives in a room created a great atmosphere for student creatives to soak up some knowledge.
How many people were in attendance? Was this for Harvard students only?
Due to the event's high demand and security requirements, we were only able to allow a maximum of 500 students to attend the discussion. We had a full house comprising Harvard students and a significant number of students from other schools in the area. The event was free and open to all college students. Tickets sold out within 30 minutes.
Anything else you'd like to add?
After months of preparation, we are thrilled by the enthusiasm and turnout that the third installation of our Uncut speaker series had in the Boston community. We are excited to continue building the No Label community and thankful for our followers for supporting our mission of bringing together young, diverse, and passionate minds that are excited to share their work and learn from one another. Moving forward, we invite all creatives to join us as we break boundaries and explore the beauty in redefining our designated labels.
People can stay tuned at www.nolabel.live and via our socials – @nolabel.live on Facebook and Instagram, @NoLabelLive on Twitter.