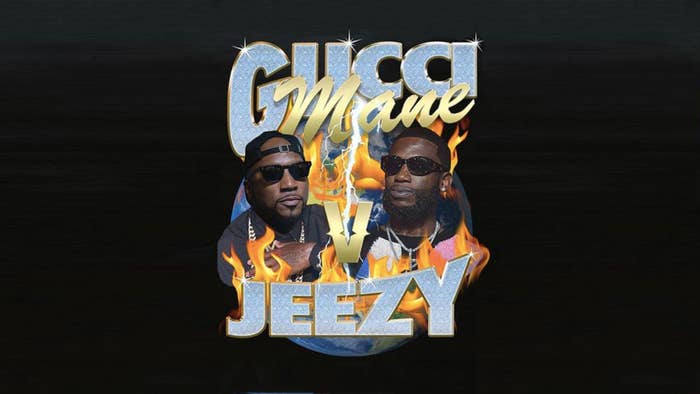 Can you believe this is really happening?
When Gucci Mane shared a promotional image of his upcoming Verzuz battle with Jeezy this past weekend, most people assumed it was fake. Anyone who has been watching these guys beef with each other for the past 15 years couldn't believe they would actually get in the same room together. As recently as late October, Gucci Mane even claimed he wouldn't do a Verzuz battle unless he was paid a million dollars for it.
Somehow, though, Swizz Beatz and Timbaland convinced these guys to actually sit down together and go hit-for-hit for 20 rounds. So now, instead of wondering if something like this would ever happen, we can look in the crystal ball and predict what will actually go down when the event begins. Will they play "So Icy"? Who will show up in the chat? How tense will it get? Who will win?
Before the battle takes place at 8:00 p.m. ET on Thursday night, the Complex Music team put together a list of predictions. All 13 of them are below.
There's no way Gucci Mane and Jeezy will let the night go without addressing their longstanding beef. We expect them to discuss years of diss records and real-life violence, but they'll keep it low key. In an effort to avoid dredging up old wounds or causing new drama, the duo will most likely speak in code and cop to immaturity and poor influences as they discuss their decades-long beef. This point in the battle will be a little tense and awkward, but it won't escalate to the physical altercation that some fans are predicting. This is Verzuz, after all. The main priority of the series is to bring two legendary artists together and celebrate their achievements. Despite what happened in the past, we expect Gucci Mane and Jeezy, at this point in their lives anyway, to stay professional during the battle. The spotlight of Verzuz is too bright and the potential bag is too big. —Jessica McKinney
We're sure they talked this out beforehand, but things are different in the heat of the moment. Gucci has mellowed out, but he's still a wild card, as evidenced by his April "blue pill or red pill" proposition to bring back "the old Gucci." He also recently shared a tweet with an infamous line from his "Truth" diss to Jeezy which references the Snowman's friend Pookie Loc (who he killed). You'd think one wouldn't want to joke about that in the midst of squashing it. But that's Gucci. Would we be shocked if he said something that struck a real nerve during the battle? Not at all. —Andre Gee
The tug of war behind "So Icy" is the genesis of their beef. Both men wanted claim over the 2005 hit for then-upcoming albums, and as former Jeezy affiliate Goldmouf Lil' Mir wrote in his Life Before Rap memoir, the local debate over "who got who" further strained tensions to the point where they couldn't even talk it out over on the phone. In a pre-battle interview with The Ringer, Jeezy was cryptic about whether he would play it. What would happen if he does? The possibilities are vast. Maybe they cue it together in the first-ever joint round, dap each other up, and promise new music. Or maybe the stream would have to get cut. Perhaps it's best to let sleeping dogs lie. We expect this one to stay off limits. —Andre Gee
While we're sure Verzuz regulars will be in the comments celebrating both icons, there will likely also be at least two people who aren't so celebratory. Jeezy reignited long-simmering tensions with Freddie Gibbs via his "Therapy For My Soul" song yesterday, while Shawty Redd has said Jeezy owes him $105K, and that if he plays any of their songs tonight, he'll be suing. When "Jeezy 'bout his paper" plays during "J.E.E.Z.Y.," Redd might comment, "Me too." —Andre Gee
There's one other artist we can count on seeing in the chat on Thursday night: T.I. In fact, this might be the safest bet on the whole damn list. After initially being announced as Jeezy's opponent, T.I. gracefully backed out of the matchup and shared the new flyer on Instagram with the caption: "Now THIS.... Is what the people wants to see‼️" Don't think that means he'll be quiet during the actual battle, though. T.I. always has opinions about everything, and when Atlanta trap classics are played throughout the night, you know he'll be all over the chat, sharing his own takes. He's not an official competitor, but expect T.I. to make himself heard. —Eric Skelton
While both Jeezy and Gucci have their go-to producers, Atlanta is such a mecca that they're bound to have come across beats that the other artist eventually used. Expect to hear a story about passed-on beats at least once. But it also may be followed by a condescending, "You're welcome." —Andre Gee
We're ready for the mainstream hits, but it wouldn't be a successful night if each of these guys didn't reach way back into their old mixtape catalogs. To appease the day-one Gucci fans, he'll play records like "I Think I Love Her" and "Photoshoot," which appeared on the 2008 Gangsta Grillz tap. He could also play some tracks off 2008's The Burrprint or 2012's Trap Back, which will inevitably ignite a debate on social media about Gucci's work ethic and drive during his 2000s run. Most people will say that Gucci Mane won the mixtape section of the night, but Jeezy will be a strong competitor. He'll likely return with records from 2004's Trap or Die and 2011's The Real Is Back, which includes the Lil Wayne-assisted banger "Ballin." —Jessica McKinney
One of the funniest parts of Verzuz chatter is seeing people joke about what they're going to wear to honor the night. Earlier this week, Jeezy took to Instagram to ask his fans to pull their Snowman tees out for tonight. As we've noted, the Snowman shirt is a classic piece of fashion that flips a quintessential piece of iconography and makes it hip-hop. And while social media is too young for us to have any viral classics of kids getting kicked out of school for wearing it, we're sure we'll hear the stories. —Andre Gee
What happens when you put a snowman in the same room as the East Atlanta Santa? The winter puns and references are endless. It's more than likely that Jeezy will be referring to himself in the third person, using his nickname throughout the night. Gucci will play along, dropping "burr" adlibs every few seconds during his songs. And if he really gets into it, he might even throw them in while the two are conversing between rounds. If you really want to have fun, pick a side and take a shot every time that rapper uses "snowman," "burr," or "ice cream." Good luck. —Jessica McKinney
BMF is a major part of Atlanta history, and both Gucci and Jeezy have proximity to the iconic, infamous crew. Will we get a story about a Jeezy song being inspired by seeing Big Meech throw six figures in the club, or a retelling of Gucci not being let in the fold because he was "robbin' too much?" Don't be surprised. —Andre Gee
Gucci and Jeezy aren't the same guys they were when they first came into the game, and that will become even more clear during their battle. Gucci will likely kick things off by mentioning his wife Keyshia Ka'oir, who is currently pregnant with their first child together. Gucci may shout out their incoming kid or talk about what it's like to be married and expecting a baby amid a pandemic. This will move Jeezy to open up about his own family status. Jeezy will likely send love to his fiancée Jeannie Mai and ask that the audience keep her in their thoughts after she underwent emergency surgery. They might be running through some of their classic street records, but this Verzuz will be all about family and transformations. —Jessica McKinney
Trap music has become ubiquitous, but it started in the south. Tonight will be a live-action trip to the Trap museum. We're in for a sonic exhibition of how the genre has transformed over the years, from the anthemic synths of Jeezy's "And Then What" to the sparse, triplet-flow-friendly vibes of Gucci and Migos' "I Get The Bag." —Andre Gee
We all know the biggest storyline of the night will be Gucci Mane and Jeezy finally sitting down in the same room together and hopefully squashing their beef. But you came here for predictions, so of course we're going to talk about who will come out on top. By 2020, Gucci Mane has (arguably) become the more popular artist overall, and he has a larger influence on the current sound of rap, but the Verzuz format favors Jeezy. The height of Gucci Mane's mixtape run was legendary and he has a ridiculously deep catalog, but when we talk sheer volume of mainstream hits, Jeezy has an edge. Just look at the numbers. Gucci Mane has one top 10 hit on the Billboard Hot 100 and Jeezy has three. And that's not counting Jeezy hits like "I Luv It" and "Put On" that peaked right outside the top 10. Of course, like most Verzuz battles, the scorecard for this one will depend on your preferences. Gucci has dozens of massive street hits, so he'll fare well and come out on top in the eyes of many supporters (especially in Atlanta). But if you're a casual fan tuning into Verzuz and looking for nostalgic mainstream hits, Jeezy will have more to offer. Don't underestimate Gucci's ability to make this close on the strength of his charisma and starpower alone, but if you strictly compare the nationwide impact of the top 20 hits in each of their catalogs, Jeezy comes out on top. —Eric Skelton