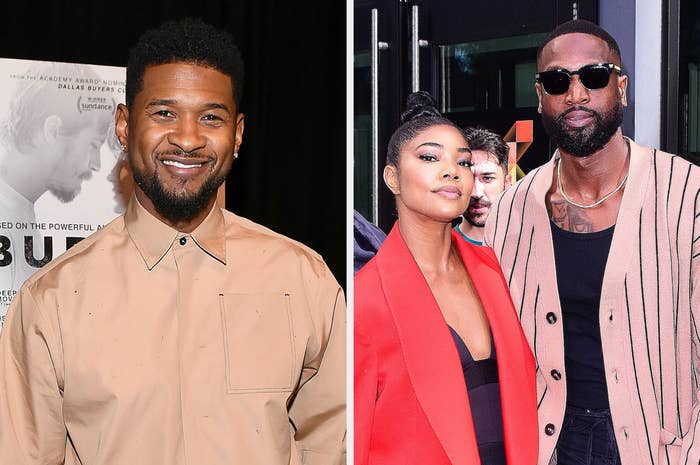 Usher realized that he can't serenade every celebrity without repercussions.
On Sunday, the singer held the first show of his La Seine Musicale residency in Boulogne-Billancourt, France, where Gabrielle Union and Dwyane Wade were in attendance. At one point, Usher walked up to Union to sing to her, when he stopped himself.
"Let's not get carried away," Usher said. "Y'know, this is Dwyane Wade—I ain't crazy! That man will knock my whole head off and then dunk it."
In the clip, Wade is seen laughing at the two dap each other up. "So happy to see you," Usher said.
UIsher shared the moment on his Twitter and IG, writing, "Look, I don't want no smoke 😅 👐🏾."
D-Wade posted the clip to his Instagram Stories, alongside the caption, "Love and respect."
Shortly after, he also celebrated the Super Bowl announcement on Twitter:
Of course, Usher's most infamous moment of serenading a celebrity was Keke Palmer at his Las Vegas residency in July. Usher sang "There Goes My Baby" to Keke and she joined him. The moment wasn't appreciated by the father of her child, Darius Jackson, who responded to the viral moment on social media—and didn't forget to comment on the black mesh dress that she wore.
"It's the outfit tho.. you a mom," Jackson wrote on Twitter. He didn't let it go when hit with criticism for having double standards, adding, "We live in a generation where a man of the family doesn't want the wife & mother to his kids to showcase booty cheeks to please others & he gets told how much of a hater he is. This is my family & my representation. I have standards & morals to what I believe. I rest my case."
Jackson succeeded at one thing: launching roughly two months of headlines and scrutiny, most recently culminating in the pair posting themselves spending time together on Palmer's 30th birthday. Weeks before, reports claimed Jackson was ready to "move on" from the relationship, which he denied.
Keke came out on top throughout the ordeal—even/especially when staying out of the drama—and starred in Usher's "Boyfriend" video in August.
Other celebrities who have been subjected to Usher's serenading include Joe Budden's and Quavo's significant others, as well as Kash Doll, and Winnie Harlow and Kyle Kuzma, though the fallout wasn't anywhere near as bad.