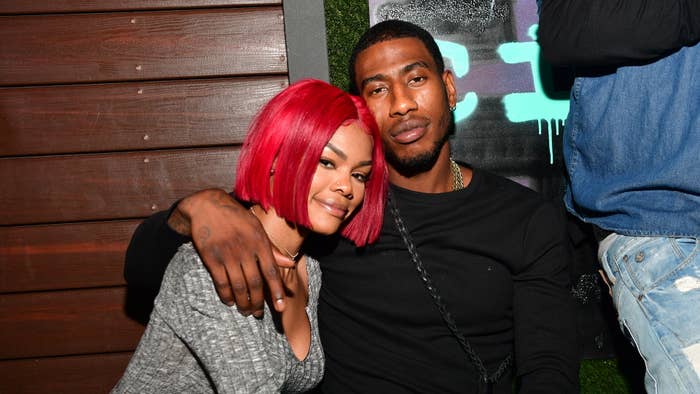 Teyana Taylor revealed a surprise at the end of her new music video "Wake Up Love": she's pregnant with her second child.
At the end of the visual, Taylor shows off her baby bump for the first time while in bed with her 4-year-old daughter Iman Tayla (a.k.a. Junie) and Iman Shumpert. "We're ready, and we're very excited," Taylor told People. "Iman is super excited. Junie is ecstatic—I'm talking super ecstatic. Everybody is just excited. I can't wait. I've got three more months left until we meet our little princess."
As all three lie in bed, Junie keeps moving her father's hand from Taylor's belly so that she can have it all to herself. "What she did at the end of the video is Junie the whole time," Taylor said. "She hogs the whole baby all the time. We were in the bed and loving on one another, and she jumped on the both of us like, 'I'm here!' It's the cutest thing."
Taylor told the outlet that Junie "has a lot of ideas" for baby names and that she "keeps changing it." 
"We want to keep her as involved as possible because Junie clearly thinks that this is her baby. She talks to my stomach all the time. It's so good to see that," Taylor said.
"Kids handle siblings differently," she added. "You have kids that are a little bit jealous. But she's so excited and preparing herself to be a big sister. She constantly kisses my stomach, she constantly talks to the baby. Even when we go to the store, she's like, 'Okay, mom, this is for the baby.' She's so ready. She's going to be such a great big sister."
Taylor released the song on Thursday, which also features a verse from Shumpert. The actress-model-singer has been gearing up to release her next project The Album, recently sharing singles "Made It" and "Bare Wit Me."
On Thursday, she also shared a "love letter" to Junie on Instagram, writing, "Your curiosity breeds knowledge for you are young but not naive. You will take a stand. You will forever be woke. You will forever be protected."