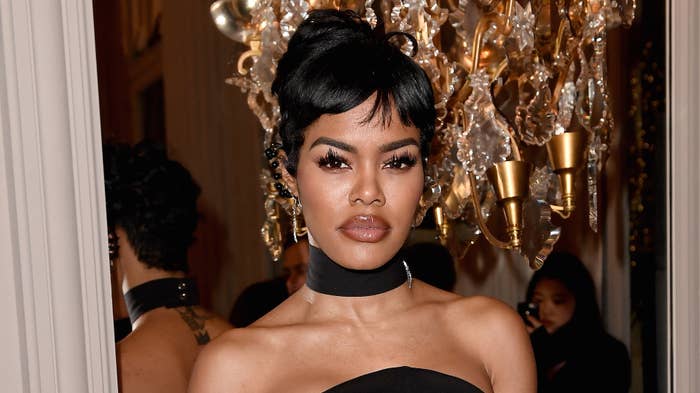 UPDATED 5/7, 3 p.m. ET: Teyana Taylor announced that her third album will be called The Album and drop next month.
The title and June 2020 confirmation for the follow-up to 2018's K.T.S.E. came via Taylor's Instagram.
Husband Iman Shumpert commented on the post, "So proud of you. Exactly the way you see it!!!
K.T.S.E. was the fifth of five albums Kanye West's G.O.O.D. Music dropped in succession in June 2018. With a 23-minute runtime Taylor said would expand with a longer edition that never materialized, The Album's title is apt. Directly after G.O.O.D.'s string of nearly-EP-length drops, Taylor said, "There are different levels of R&B on this album and then once y'all hear the album, like next week, you'll see exactly what I'm talking about because it's way more completed."
The following month she wrote on Instagram of the K.T.S.E. confusion, "I LOVE MY ALBUM and never said that I didnt AND BELIEVE IN MY ALBUM with all of me. My complaints never came from a place of anger but more so from a place of hurt that I felt that I owed the world more."
See original story below.
Teyana Taylor is gearing up to drop a new album. 
On Thursday, Taylor took over the Red Bull Music Instagram page where she held a Q&A session with her friend and dance captain, Coco Gilbert. During the conversation, Taylor revealed that she's finished with her new record. "We've been working on the album," the singer said. "The album is done—that's why I look crazy right now. Before I got on with y'all, we literally just did the listening of the album. Y'all gonna be so happy."
Taylor went on to describe the direction of her new project. "This album is definitely more of a vibe. I don't really do fast songs like that," Taylor continued. "There are some head-boppers. It's not super-fast. You can dance and you can cry and you can ride." 
Teyana Taylor was given the keys to the account so that she could host a virtual screen of her new documentary, Assembly Required: Teyana Taylor's House of Petunia. The documentary was put together by Red Bull and is described as an "unfiltered look into the creative process for Teyana's iconic performance at Red Bull Music Festival New York." The nearly hour-long film documents the presentation of Taylor's House of Petunia show which was a 2019 audio-visual experience created by Taylor's production company, The Aunties. 
Watch Assembly Required: Teyana Taylor's House of Petunia below.