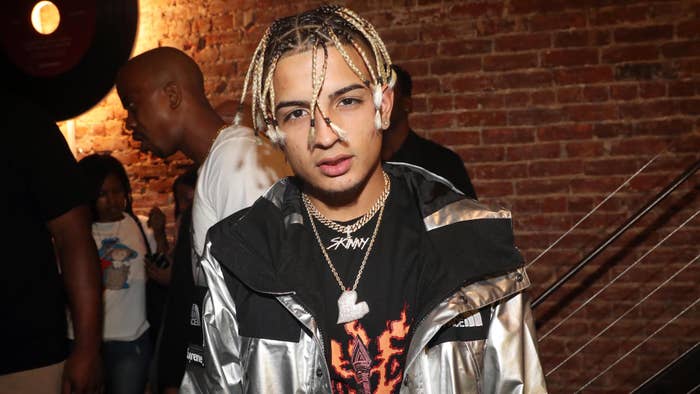 Skinnyfromthe9 has opened up about another incident in which he was attacked.
The New Jersey rapper posted a 4-minute-long Instagram TV video, discussing the incident. In mid-January, a video surfaced of him getting beat to the ground by a group of guys who wanted his chain. It isn't evident in the video if they took his chains or anything else.
"I just wanna let everyone know it didn't go down the way y'all see," he said in the IGTV video. "I was set up by someone I thought I could trust, a close friend. He told me to come to his birthday party and I did … I just came by myself and one of my friends. When I got there, there was like 20 dudes waiting for me outside … 20 guys, two times bigger than me, just all attacked me."
He explains that they took everything out of his pockets, as well as his jewelry. "That video was taken after all the other guys were already done hitting me so it could look like I was defenseless or a coward to two people. So that's now how it went down." He then asks his followers and fans what they would do if they were in the same situation.
Skinny has been involved in similar incidents. Last March, footage taken in a restaurant showed the rapper getting attacked after approaching another young man. The unidentified attacker punches Skinny in the face, and a scuffle ensues.
Before that, in February 2019, footage showed YBN Almighty Jay purportedly robbing Skinny, taking his chain, Rolex, and $20,000 in cash. In the video, two men walk up to Skinny, who's sitting in a Range Rover, and start tussling; the two men then run. However, Skinny later admitted the robbery was fake, Vlad TV reports. The case was subsequently dropped.