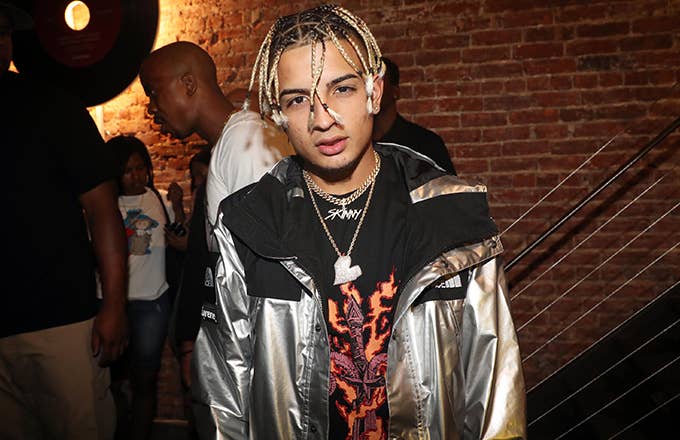 New Jersey rapper Skinnyfromthe9 and Zoey Dollaz have been beefing ever since the former was released from jail late last year. The two of them have been taking shots at each other ever since, but now it looks as though their feud has escalated into physical violence.
On Sunday night (Feb. 10), Zoey uploaded a video of himself and his entourage chasing Skinny out of a Los Angeles studio after bumping into each other.
Responding to the since-deleted video on his Instagram story, Skinny wrote, "Noey Dollas fat ass don't want no problems." He didn't stop there, however, adding, "He tryna' record shit for clout cause his career a dub. I said wassup bruh he ain't want no problems. Y'all fat ass n****s tried to jump me cause n****s know my hands RIGHT."
The caption for the video Zoey posted highlighted the fact Skinny was running away. "Why you running @skinnyfromthe9," he wrote. "Why u running forest? I just wanna talk to u bro." In an Instagram Live stream not too long after the incident made its way online, Zoey said that he really did just want to have a chat with him.
"I didn't even get a chance to talk to him, my brothers talked to him," Zoey explained. "That n***a ran so fast, he ran down the whole fucking street missing. That's crazy. We wasn't even finna do nothing to homeboy. We was just gon' talk to him. I was just trying to figure out what's up with all that tough talk though, bro?"
Skinny, meanwhile, had a different take on the situation. "When his n****s finally came to press me and when I'm finally leaving the studio, Zoey Dollaz finally emerges from the shadows and takes his phone out and starts talking shit," Skinny said of the video. "And then you see me in the video, I'm like, 'Wassup, bruh?' 'Cause I ain't pussy, bruh. We can do whatever you wanna do, but n****s wanna do shit for clout."
Check out what the two rappers had to say about the situation above.