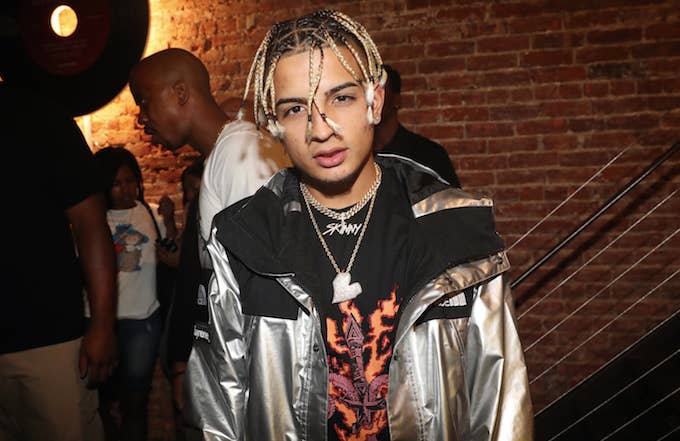 Skinnyfromthe9 has responded to a video in which he is seen getting attacked inside a hibachi restaurant.
The footage, posted by No Jumper host Adam22, shows the rapper approaching another young man standing next to the dinning area. The unidentified attacker then punches Skinny in the face, and a scuffle ensues.
"I wasn't gonna comment on the situation cause I'm all about positivity. But the dude that hit me is a straight b***h," Skinny said in an Instagram Live session Friday night. "He came up to me while I was eating at a restaurant by myself with a girl and was like, 'Yo, I know you eatin' right now, but can I take a picture? I got up, put my arm around him like we was gonna take a picture—like we was posing—and the dude snuck me."
Skinny insisted he was fine.
"I still fuck b***hes. I still got all my jewelry; the dumbass didn't even get my jewelry. He tried. Dumbass n**ga," the rapper continued. "He ran outside like a b***h. He would not fight me one-on-one. I would beat your ass."
Skinny also called out Adam22 for sharing the video online:
"Adam, you a whole rat. Shut the fuck up. Skinny Gang," he said. "Where I'm from, when you wanna fight somebody, you go up to them and n**gas square up. N**gas throw they sh*t up and fight it out. Not no b***h s**t, where you go and sneak n**gas. That's corny."
This, of course, isn't the first altercation Skinny has experienced this year. In mid-February, the New Jersey artist had a run-in with Zoey Dollaz. The Miami rapper posted a video in which he and his crew seemingly chased Skinny out of a Los Angeles recording studio. Skinny later claimed Zoey's footage was misleading.
"When his n**gas finally came to press me and when I'm finally leaving the studio, Zoey Dollaz finally emerges from the shadows and takes his phone out and starts talking s**t," Skinny said. "And then you see me in the video, I'm like, 'Wassup, bruh?' 'Cause I ain't pussy, bruh. We can do whatever you wanna do, but n**gas wanna do s**t for clout."
Days after the incident involving Zoey, Skinny was seen in another video getting attacked and robbed by two men. Police named YBN Almighty Jay as one of the suspects; however, the investigation was eventually dropped because the "the victim wasn't available."