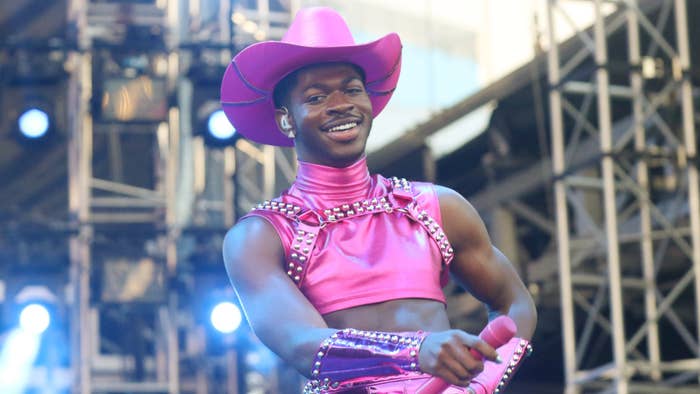 Now that Nicki Minaj and the City Girls have made amends, Lil Nas X's brother is asking that she also speak to the Montero rapper.
"U got one more barb to have a convo with 👀," Lil Nas' sibling Sleepy tweeted in response to Nicki saying she had cleared the air with JT and Yung Miami.
Sleepy continued, writing that he wants to see a collaboration from Nicki and his brother.
"I guess imma be the one to say it can we get a @NICKIMINAJ and @LilNasX for the culture."
Sleepy also described X as being a Nicki fan as a kid.
"I watched my brother grow up loving nicki I personally believe if he can have one feat from anybody it would be her he deserves it he worked his ass off to get to where he at."
Lil Nas X was apparently a Nicki stan in his youth, but when he was asked about being the person behind a Barb account, he denied it. Back in 2019, rumors surfaced that he ran the Twitter account @NasMaraj, which at one point had a six-figure following.
"It's like a big misunderstanding and it's not one that I even want to give the time, because I'm never putting someone as the face of my career," he told NPR in 2019. "So I don't even speak on it. I just don't even acknowledge it, really. I know even more things are being made up and they're gonna be out there. It is disappointing when a big blog will post something without me talking about it but, I mean, it happens."
However, it was later confirmed that X did, in fact, run the account. In 2020, he explained that he denied being a Barb because "he didn't want people to know I was gay."
Nicki responded, saying, "It was a bit of a sting when you denied being a barb, but I understand. Congratulations on building up your confidence to speak your truth."
It seems Minaj still hasn't really connected with X—as he was making Montero, he unsuccessfully sought a Nicki feature.