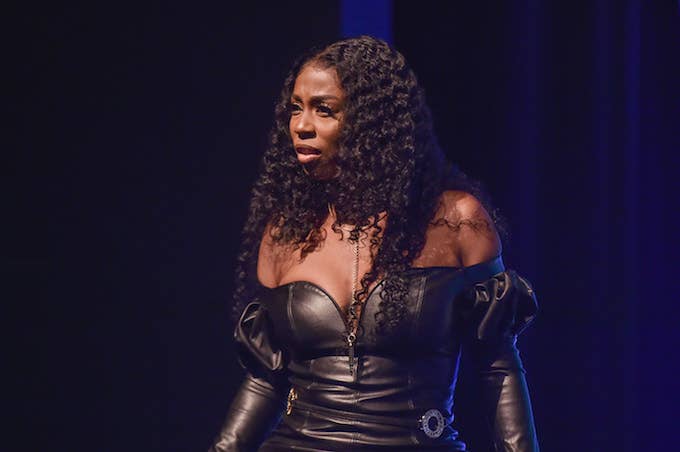 It seems like Kash Doll just can't win. A day after Kash met up with Cardi B to squash their beef, Nicki Minaj's fans came for Kash, asking why she doesn't follow Nicki on social media anymore.
The Detroit rapper answered on Instagram Live on Thursday, saying, "I unfollowed Nicki two weeks ago because when y'all was dragging me for whatever the fuck y'all was dragging me for and I told y'all to leave my name out y'all mouth, she came in my DMs talkin' crazy. I unfollowed her ass and told her she was delusional, just like y'all motherfuckers."
Kash also addressed the situation on Twitter. "When i was with Cardi lastnight we didn't discuss no one," she wrote. "I unfollowed Nicki 2weeks ago." Kash added, "I'm not discussing that shit no more." She reportedly has no issue with Nicki though.
On Wednesday morning, Kash tweeted about how Cardi was "cool af" after kicking it with her on Tuesday night. "A whole bunch of misunderstandings but grown women can kick it and let that shit go! I fuck wit her," she said.
Kash wrote, "I literally don't have a problem with no one…" adding, "That's my bitch period."
Kash and Cardi's beef began in 2017, when Cardi was given the Spirit Of Detroit Award, even though she's from the Bronx, HotNewHiphop reports. Kash, a Detroit native, took issue with Cardi winning the award and talked about how "disrespectful" it was to honor a non-native. Still, Kash clarified that she had no hard feelings against Cardi.
Then in 2018, Kash commented about how a verse she contributed to Cardi's YG collab "She Bad" didn't make it to Invasion of Privacy. While Kash didn't complain about the exclusion, Cardi was blamed for it. Kash also revealed that Cardi's label blocked Kash from posting her version as a remix on SoundCloud. She maintained that she never had an issue with Cardi.