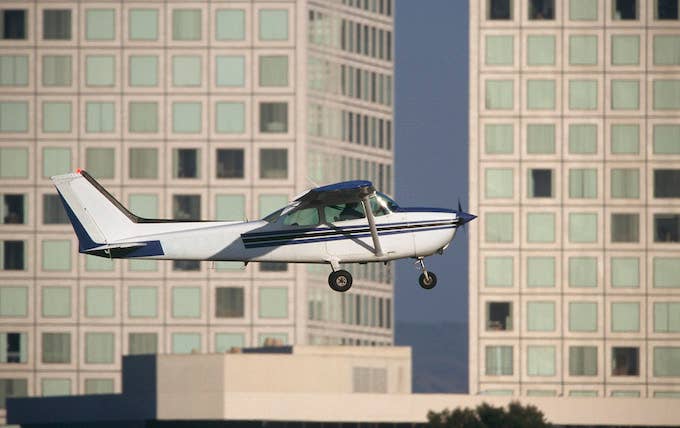 A Canadian rapper named Jon James McMurray has died after performing a stunt on an airplane in British Columbia.
The incident happened on Saturday, when the 34-year-old was filming for a long-term project, which included him walking onto the plane's wing and rapping. According to a report from The Canadian Press, McMurray's management team viewed the feat as a "beacon of light to follow your dreams," the team shared in a statement. McMurray had been training "intensively" for the stunt, the team said.
"However, as Jon got further out onto the wing of the plane, it caused the small Cessna to go into a downward spiral that the pilot couldn't correct," the team said, adding, "Jon held onto the wing until it was too late, and by the time he let go, he didn't have time to pull his chute. He impacted and died instantly." The plane and pilot were both safe.
McMurray's music videos often showed him performing stunts, including parkour flips, BASE jumping, and skydiving. In 2015, he even admitted in a clip for his song "Hello" that he "broke" a parachute while practicing for the shoot.
A Calgary native, McMurray spent his childhood skiing in the Rocky Mountains, and eventually became a skilled freeskier and stuntman. When he broke his back and shattered his heel, he turned to a career in music. "His passion for making music videos and performing stunts were combined, and Jon pushed music in a new direction that was uncharted territory," the team's statement read.
According to childhood friend and professional skier Rory Wayne Bushfield, McMurray was the first in the world to back flip from one rail to another. "It was a tragedy when he broke his back... but he took that as a positive and it drove him to do some incredible things," Bushfield told The Canadian Press.
McMurray and Bushfield would make stunt videos together, with McMurray bringing his love for stunts to his rap career. Bushfield shared with The Canadian Press that McMurray had been practicing for months. "He planned for everything. It should have been straightforward. It's one of those things. We're not really sure what happened."
The Royal Canadian Mounted Police, coroner's office, and Transportation Safety Board are currently investigating McMurray's death. A GoFundMe page has also been created to "get his stuff out there to the world in the right way... [and] help with Jon James' celebration of life."