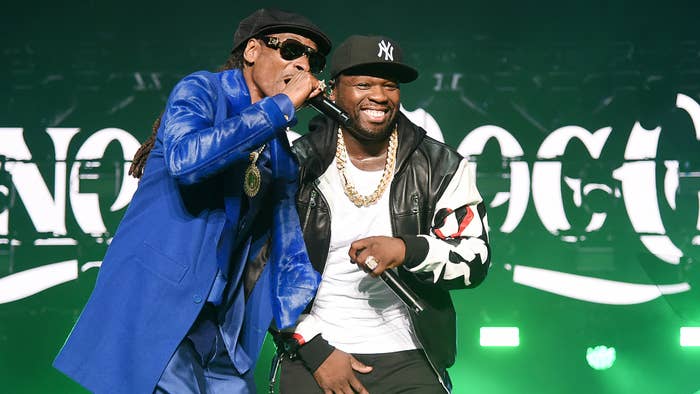 Snoop Dogg and 50 Cent go way back, so it's no surprise Snoop had some very kind words for the Queens native.
Back in November, Uncle Snoop appeared on the Million Dollaz Worth of Game podcast, where he gave Fif his flowers. "50 is gon' be a legend in rap forever," he said. "His records, his music, his movie—his shit he did just changed the whole game of New York, and just run New York for a minute and put that New York spirit back in the game. He did that. He figured that shit out, he got that shit on lock. I'm a student right now and I'm trying to learn from him. It's true, you can teach an old dog a new trick, that's if he's willing to listen."
It seems 50 might have only heard the clip recently, as he took to Instagram on Monday to share Snoop's interview, writing, "@snoopdogg that shit you just said means way more then a award to me."
Snoop performed at this year's Super Bowl Halftime Show alongside Kendrick Lamar, Eminem, Dr. Dre, and Mary J. Blige back in February, where Fif made an upside-down surprise appearance and played the Dre-produced hit "In Da Club." Snoop and 50 Cent are also both executive producers on 50's forthcoming Starz series A Moment in Time: Murder Was the Case, which centers on Snoop's 1993 first-degree murder case.