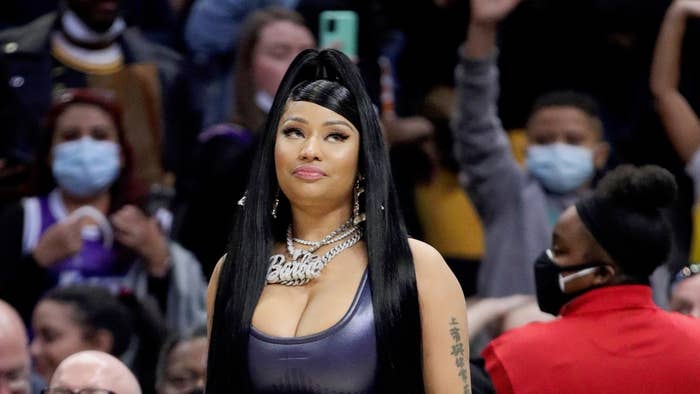 Nick Minaj is still catching heat over a vaccine claim involving swollen testicles.
On Thursday night, the Philadelphia Public Health Department caught wind of a Nicki tweet posted on Feb. 16: "Nothing like watching someone speak confidently about something they know nothing about," she wrote without providing context.
The health department responded to the message with the eyes emoji as well as a screenshot of a tweet Nicki shared in September 2021. The post urged fans to think twice before receiving the COVID-19 vaccine, or risk some penis-related side effects.
"My cousin in Trinidad won't get the vaccine cuz his friend got it & became impotent," she wrote at the time. "His testicles became swollen. His friend was weeks away from getting married, now the girl called off the wedding. So just pray on it & make sure you're comfortable with ur decision, not bullied."
Nicki's claim was met with mixed reactions; some fans took the anecdote seriously, many laughed it off, and others accused the Queen rapper of spreading false and dangerous information. Dr. Anthony Fauci—the longtime director of the National Institute of Allergy and Infectious Diseases—addressed the controversy during an interview with CNN's Jake Tapper last summer. The doctor insisted there was no evidence that FDA-approved COVID vaccines caused the kind of symptoms Nicki mentioned.
"The only way we know to counter mis- and disinformation is to provide a lot of correct information and to essentially debunk these kinds of claims, which may be innocent on her part," Fauci said. "I'm not blaming her for anything. But she should be thinking twice about propagating information that really has no basis except [as] a one-off anecdote. And that's not what science is all about."
Trinidad and Tobago's Minister of Health Terrence Deyalsingh also slammed Nicki for the swollen testicles tweet, confirming he and his team found no evidence to support Nicki's claim.
"We had to check and make sure that what she was claiming was either true or false," Deyalsingh said in a news conference. "Unfortunately, we wasted so much time yesterday running down this false claim. As far as we know at this point in time, there has been no such reported either side effect or adverse event."
Hours before the 2021 Met Gala, Nicki announced she wouldn't attend the star-studded event because of its vaccine requirement. Nicki explained she wouldn't get the jab until after she did her own research and felt comfortable getting the shot.
Nicki's vaccination status remains unclear.