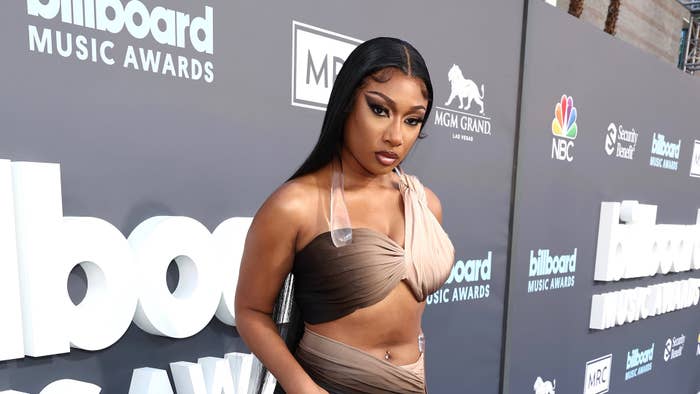 Megan Thee Stallion had plenty of reasons to sign with Roc Nation as her management, but there was one tasty snack that helped seal the deal.
While speaking at the annual Cannes Lions Festival on Thursday, the 27-year-old dished on some of her business ventures, including her management contract with the iconic hip-hop entity. Megan recalled the day she was scheduled to meet with imprint executives and having no idea Jay-Z would join them, or that he'd come with Flamin' Hot Cheetos in hand.
"I thought I was coming to meet the leader and it was just going to be Roc Nation staff like showing me around," Meg said during her "If You're Not First, You're Last" panel, as reported by Page Six. "And then Jay-Z walks in the room, and I'm like, 'I didn't know Jay-Z was coming to my meeting!' But he comes in the room and he has like six platters of Hot Cheetos and he's like, 'I heard you like Hot Cheetos!' And I was sold."
Megan signed to Roc Nation in September 2019. Since joining the family, she has reached a slew of career and personal milestones, such as releasing her debut album Good News; graduating from college; winning her first Grammy Award; and appearing in her first-ever commercial, which was Frito-Lay's Super Bowl spot for Flamin' Hot Cheetos earlier this year.
Megan told the audience her involvement in the Flamin' Hot campaign felt "authentic," as the spicy snack is a staple on her rider request.
"When I go to a photo shoot or a video shoot I have to have Hot Cheetos," she explained. "I always need to really genuinely love it because I need to be authentic. I need to be Megan because if I can't be Megan, who am I?"
Megan is now preparing to release her much-anticipated studio album, which is reportedly in the final stages. The Grammy-winner gave an update on the project back in May, claiming it was "95 percent done."
The album is expected to include her newest track "Plan B."