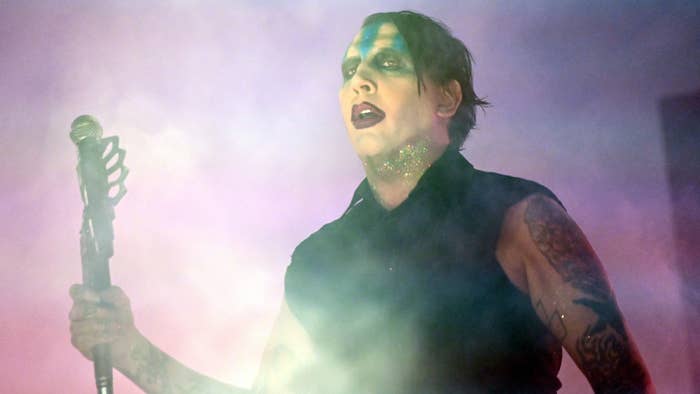 Embattled shock rocker Marilyn Manson is facing one less legal battle—at least for now.
According to TMZ, a judge has dismissed a sexual assault lawsuit against the 52-year-old artist, citing the accuser's inability to explain how or why her memories of the alleged rape were repressed until 2021. The plaintiff—identified as Jane Doe—sued Manson back in May, claiming he had sexually assaulted her throughout their relationship 10 years ago.
Manson's ex-girlfriend accused him of being a "serial sex offender" who would force her to have sex with him on a regular basis. She claimed the sexual activity was so brutal at times she was left with visible injuries and emotional distress.
"Ms. Doe — like many victims of sexual assault — repressed the memories of her rape until 2021," read the complaint, filed by her attorney, Tracey B. Cowan. "Accordingly, her claims did not accrue until earlier this year, and thus are timely, regardless of the applicable statute of limitations."
The lawsuit was filed after Manson was hit with multiple sexual abuse allegations, including some by a former assistant as well as his ex-girlfriends, Evan Rachel Wood and Esmé Bianco.
Manson denied all the allegations, and said his accusers were "cynically and dishonestly seeking to monetize and exploit the #MeToo movement." He also claimed the alleged victims had "spent months plotting, workshopping and fine-tuning" their allegations into "twisted tales that bear no resemblance to reality."
According to TMZ, Manson is still facing multiple lawsuits filed by other alleged victims. Jane Doe reportedly has 20 days to refile her complaint and address the questions surrounding her claims of repressed memories.