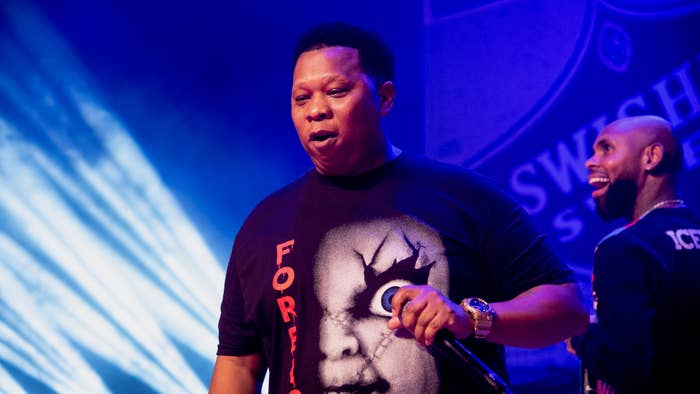 Mannie Fresh and Scott Storch are facing off in tonight's online beat battle.
The event, organized by Timbaland and Swizz Beatz, was originally billed as a Storch vs. T-Pain contest. But shortly after it was announced, the latter hitmaker had already accepted defeat: "This boy @scottstorchofficial bout to curb stomp me," T-Pain wrote in a since-deleted Instagram post. "Win or lose I'm honored to be apart of the biggest thing happening right now. Tune in and celebrate music history wit us! Shit gon be fun regardless. Thank you @timbaland and @therealswizzz."
Enter hip-hop veteran Mannie Fresh. There's no doubt the New Orleans-bred producer is a formidable opponent, having blessed the world with classics like Big Tymers' "Number One Stunna," Juvenile's "Back That Azz Up," Lil Wayne's "Way of Life," and T.I.'s "Big Shit Poppin' (Do It)."
Before the battle, Mannie taunted Storch via Instagram: "It's a sad day, all around the world. Today I gotta go pick out a casket for my homeboy, Scott Storch ..." he said in a video. "Sometimes people do stupid things, you know, and you gotta pay for it ... But damn, Scott, why? Why would you do it? We gon' miss you, bro ... He just made that one fatal accident ... He went against Mannie Fresh."
The producers will go 20 rounds, presenting their best classic hits. Who will come out on top? Go to Mannie and Storch's Instagram pages now to find out.
Following the battle, Scott blessed viewers with an exclusive preview of a new track featuring Tyga and Ozuna. The producer confirmed the song would appear on his own project. Check out the snippet below.