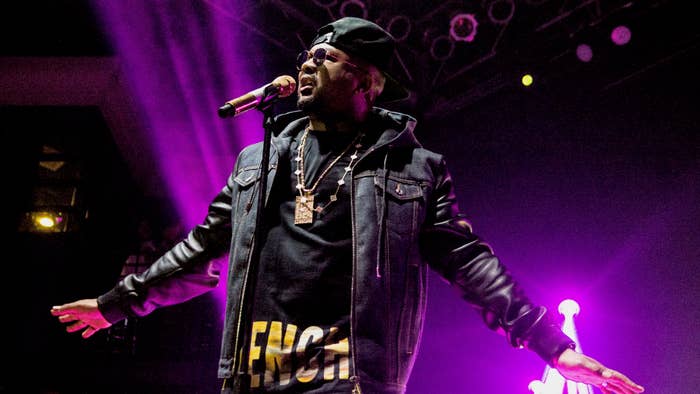 After going toe-to-toe in a virtual beat battle this week, Timbaland and Swizz Beatz return to Instagram to recognize two of the most respected, prolific songwriters in the game: Sean Garrett and The-Dream.
"Me and my brother [Timbaland] decided to show respect to the songwriters tonight," Swizz wrote in the announcement for the virtual songwriting battle. "This one is going to be Crazyyyyy hits only ... Who do you have winning?"
The-Dream and Garrett have contributed to some of the most popular, era-defining records of our time. The former has received writing credits for songs like Kanye West's "Ultralight Beam," Rihanna's "Umbrella," Beyoncé's "Partition," Snoop Dogg's "Gangsta Luv," and JAY-Z's "Heaven."
During a 2016 interview with the New York Times, The-Dream explained his approach to songwriting and how he considered it a puzzle to be solved.
"I think that's how ultimately I got better at it. Keep knocking on whatever it is until you figure out how to oil the engine of a song perfectly," he said. "I study the songs that were great songs before. OK, all these songs have a great subject matter. All these songs, even without melody, is a great conversation. All these songs have something that my songs need to have every time. There are songs I just write about sex, and it's just about sex, so it doesn't matter."
Garrett's songwriting credits are as equally impressive: Usher's "Yeah!" Ciara's "Goodies," Kelis' "Bossy," Destiny Child's "Lose My Breath," and Pussycat Dolls' "Buttons," just to name a few.
"Writing a song is such a giving, sharing, building process," Garrett told Rolling Out in 2016. "The goal is to have a hit record on that artist with that scenario and that's the goal you focus on. Music has always been about inspiring people. Either you are stopping people from hating or encouraging them to love more. It's about sparking an emotion."
The-Dream and Sean Garrett exchanged disses at each other on IG, drumming up excitement for the fight.
This live beat battle shit like the WWE.
After a few false starts, the superproducers went back and forth with their respective hits. Garrett opened with Donell Jones' "Better Start Talking" featuring Jermaine Dupri and The-Dream returned with an unreleased H.E.R. song. The two continued to play a range of songs from Destiny's Child, JAY-Z, Jay Electronica, Ciara, Justin Bieber, Mario, The Pussycat Dolls, and more.
At one point, The-Dream decided to share the reference track to JAY-Z and Justin Timberlake's "Holy Grail." You can hear a snippet below.
Through the nearly four-hour battle the took place on both their Instagram pages, fans debated in the comments and on Twitter about how each of their songs stacked against each other. Many were having fun with both The-Dream and Sean Garrett's antics on video.
This pretty much sums up The Dream vs Sean Garrett battle.....when a mfer starts playing golf on yo ass,it's over.!!! 😂🤣

pic.twitter.com/bg9ovDP6Pz
Well ladies and gentlemen, The Dream just played "Fancy." Im bout to fry some chicken....anyone want a plate?
The-Dream: "Yoncé/Partition."

Sean Garrett: "Upgrade U"

The-Dream: "Single Ladies"

Sean Garrett: "Lose My Breath"

😩😩

pic.twitter.com/JXYpfFrgQs
insane how sean garrett and the dream connect to their femininity and write from a women's perspective and have made absolute unadulterated smashes
Had nooooooo clue Sean wrote this Jamie Foxx record
You can stream The-Dream and Garrett's songwriting battle on Instagram Live.