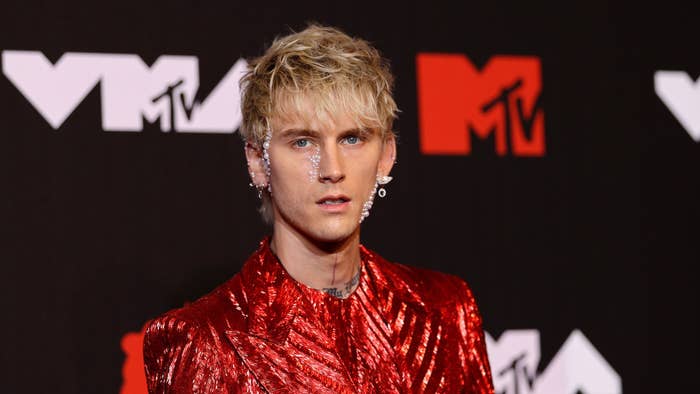 Machine Gun Kelly has a strong message for anyone who questions his rock 'n' roll roots: "Fuck you."
During a recent appearance on the Howard Stern Show, MGK confirmed he is frequently targeted by haters who believe he doesn't deserve the success he's achieved. He said he was confused by people's animosity toward him, but believes it may be rooted in misconceptions about his music background—specifically, the amount of time he's been involved in the rock scene.
"It blows my mind, even in the the genre that I'm in, when people act like this is like some new thing," he explained. "[...] It blows my mind. You can literally look back 10 years ago at rock festivals, and my name is right there on the flyer. Like we've always been in the culture. I'm super confused where this like, 'Oh he's new to the scene' [claims]. Like, fuck you. We've been here so long, defying boxes and genres and odds."
The 31-year-old artist, who has also released rap records, said some of his critics falsely assume he never paid his dues, because they were convinced his come-up was rapid. He pointed out there was a time when he was struggling financially, even after he had relatively successful projects under his belt.
"I was platinum with two albums out, still living on a bean bag in my manager's apartment," he said. "None of you have shit to say about the comfort of that, like, as if that didn't [happen]. This was after I already had albums out. You know how much that mentally fucks with you? [...] All my money is being taken [by] a puppet master who is convincing me, 'Oh, I'm here for you," but I'm living in a fucking apartment on a bean bag."
He continued: "Now that it finally worked out for me, and I finally got my finances all right, [people say], 'Oh man, he don't know shit about no comfort.' No comfort? Be happy for me [...] If I saw somebody really take 10 years to finally get their moment, by the time that moment came, I'm clapping."
Elsewhere in the interview, MGK recalled his last moment with Taylor Hawkins, the Foo Fighter's drummer who died unexpectedly last week. He said he and his band were scheduled to perform with the Foo Fighters at a festival in Paraguay just a couple of days before Hawkins' death. MGK said the gig was canceled due to weather, so Dave Grohl invited MGK and his crew to a hotel rooftop for drinks. MGK said he rolled up to the place with about 20 people, and wasn't sure how Grohl and his bandmates would react to such a big crowd. Thankfully for MGK, it wasn't an issue.
"I walked up and we got out of the elevator, all 20 of us, and Taylor, Dave, the whole Foo Fighters team … but specifically Taylor, he went up to every single one of us and gave us each our moment," he revealed. "Like every single one of us, man, like down to my assistant … He's such a beautiful soul … He gave his heart."
MGK continued: "I really want to thank him and let his kids know that he made us feel — in a time where the outside world, outside of the fans, and the outside world was really coming in hard on us — he made us feel so confident in ourselves and loved. Your father is a great, great man and we were all lucky to know him and we all appreciate that night more than anyone will know. That was a dream for us."
The Stern interview went down just days after MGK released his sixth studio album, Mainstream Sellout.