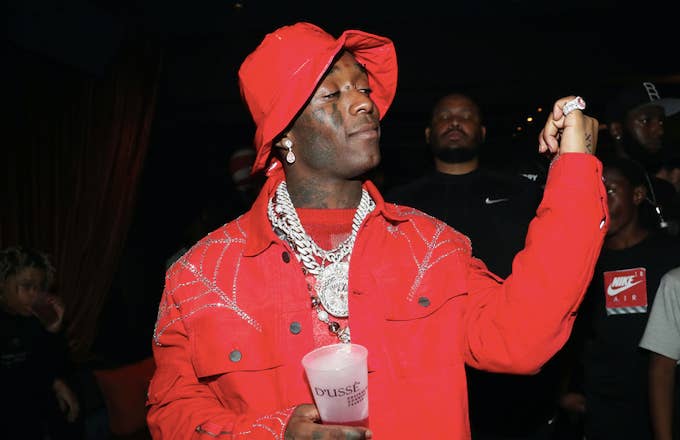 Lil Uzi Vert is doing his part to alleviate student debt—at least for one lucky man.
On Thursday night, the Philadelphia rapper was spotted making his way through a department store when a fan shouted out a bold question: "Uzi! What's good, bruh? Can you pay for my college tuition?"
Uzi stopped in his tracks and then asked the guy, identified as Raheel Ahmad, how much he owed. 
"Ninety grand. I go to Temple, bro," the student responded as he continued to film the encounter.
Uzi briefly pondered. 
"Ninety grand? I could pay for that," the rapper said. "But this is the thing, though: If I pay for your college, are you gonna finish college?" 
After the student insisted he would, Uzi asked for his Instagram handle and instructed him to send proof of his enrollment.
"Make sure you show me all of your transcripts—everything. Show me all your papers and everything, and you'll get 90 thousand from me. I'm serious," Uzi said. "If you don't show me, you won't get 90 grand from me ... you gotta show me the proof."
Check out the footage below.
Earlier that day, Uzi shared a series of tweets in which he opened up about his grandmother's health issues. Uzi told his followers that she had been in the hospital for months, receiving treatment for a brain tumor, but was on the road to recovery. The rapper admitted he was feeling a mix of emotions, but was confident his grandma—the woman who raised him—would completely pull through.