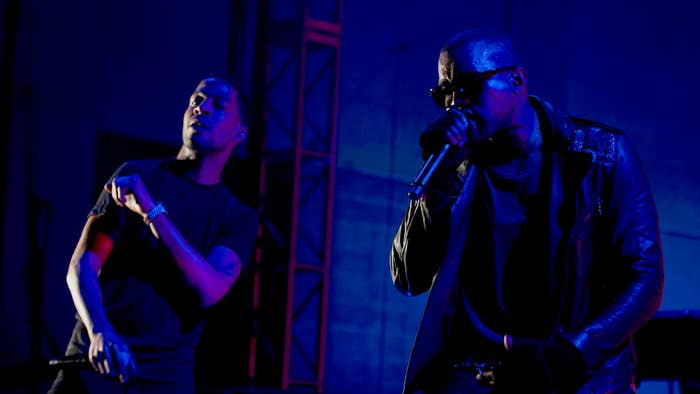 Despite their recent beef, Kanye West wants everyone to know he still has love for Kid Cudi.
Earlier this week, Cudder took to Instagram to share a prayer request amid his highly publicized feud with Ye.
"God…please watch over me and keep my mind sane," wrote Cudi, who has been vocal about his past struggles with mental health. "I could use it right now. To anyone who feels alone, I'm with you and I love you."
Kanye responded by sharing a screenshot of Cudi's post along with the caption: "Love you family."
Cudi has yet to publicly respond to Ye's message, but did thank fans for all their support Wednesday night.
After meeting in 2006, Cudi and Kanye developed a close friendship and creative partnership. The two went on to have a fall out in 2016, but reconciled months later after Cudi announced he was entering rehab. They would go on to collaborate on a number of records and even created the super-duo act Kids See Ghosts. However, their relationship took a turn this month when Kanye announced Cudi would no longer appear on his upcoming Donda 2 project. The reason? Because Cudi was friendly with Pete Davidson—the current boyfriend of Kanye's estranged wife, Kim Kardashian.
"Just so everyone knows Cudi will not be on Donda because he's friends with you know who," Ye wrote.
Cudi immediately fired back.
"Too bad I dont wanna be on ur album u fuckin dinosaur hahaha," Cudi wrote. "Everyone knows I've been the best thing about ur [albums] since I met u. Ima pray for u brother."
After calling out Cudi, Davidson, and Billie Eilish, Kanye wiped his Instagram clean and posted a somewhat apologetic message about his behavior.
"I'm working on my communication. I can benefit from a team of creative professionals, organizers, mobilizers and community leaders," he wrote. "Thank everybody for supporting me. I know sharing screen shots was jarring and came off as harassing Kim. I take accountability. I'm still learning in real time. I don't have all the answers. To be good leader is to be a good listener."