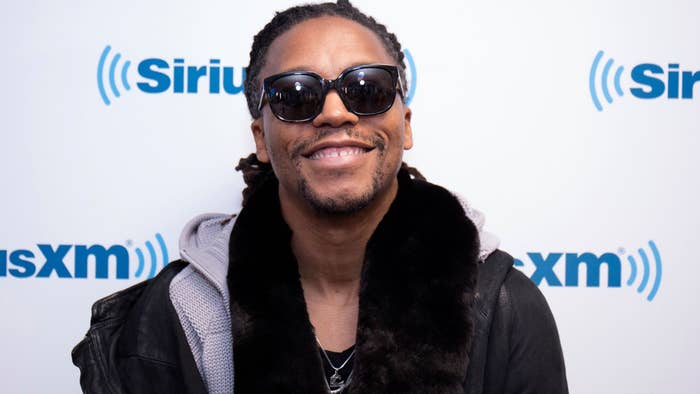 The public fallout of Ye and Kid Cudi's relationship has seen the two exchange comments back and forth over the last 24 hours. But guess who's on third?
Lupe Fiasco, who has quite a bit of history with both MCs, has thrown his thoughts into the mix on Twitter now. When told by a fan on Saturday "Cudi a goat" and that the artist formerly known as Kanye West was just being "petty," Lupe made his opinion clear. 
"Oh he a goat," he wrote in a seemingly since-deleted exchange, shared by The Neighborhood Talk. "But he a bitch."
As HotNewHipHop reports, this is certainly not the first time Ye's former Child Rebel Solider collaborator has expressed his distaste for Cudi, after the artist once reportedly accused Lupe of "scamming" fans for verses through an online service. Since then, Lupe has called Cudi a "disrespectful clown" who needs his "ass beat" during a 2016 Twitter exchange about his then-beef with Drake. 
"He called me a thief. In public," Lupe wrote in 2016, per Pitchfork. "Had all kinds of people shitting on me for no reason. Then ducked a conversation to clarify or squash it."
As for Ye and Cudi, Ye continues to share his concerns about his Kids See Ghosts partner on Instagram, whether it be through photoshopped movie-poster memes, or general posts about his friendship with Kim Kardashian's new boyfriend Pete Davidson—who Ye has decided to label as "Skete."

On Sunday, Ye revealed why he's posting as many memes and opinions as he has on the platform in recent hours, sharing that if media outlets can post multiple news stories per day, he should be allowed to share his thoughts as frequently as he'd like. 
"Why does a media outlet get to post 20 times a day but if I post that amount there's something wrong," Ye wrote. "Isn't Instagram our own personal media platform? So I can make stages float or set myself on fire but I better not Instagram 2 much? As I calmly take my kids to the game I love being in control of my narrative. 'I feel kind of freeeeee.'"