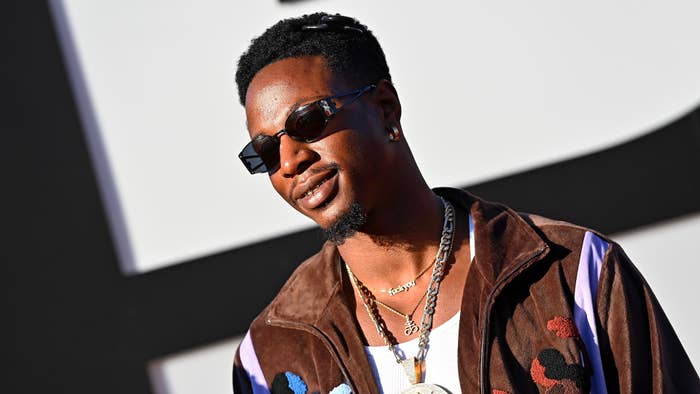 Joey Badass has declared himself among the world's best rappers, alongside his previous collaborators Kendrick Lamar and J. Cole.
The Pro Era made the bold claim in the Diddy-assisted "The Baddest," the opening track of his newly released album, 2000.
"N***as know who greater, fuck your favorite, I'm the greatest," he spits in the first verse. "… I paved the way for a lot of these rappers you see today/So act like you know, bitch, I've been had the flow, penetrating souls/Who the best emcees? Kenny, Joey, and Cole/The holy trinity, it's that nine-fives in affinity."
As many listeners noted, the line was an apparent reference to Jay-Z' s 1997 track "Where I'm From," in which Hov questions which three NYC legend reigns supreme: "Who's the best MCs, Biggie, Jay-Z or Nas?"
Joey and Kendrick were both featured on ASAP Rocky's "1 Train" produced by Hit-Boy. Years later, he would connect with Lamar on "Legendary" off his sophomore studio album, ALL-AMERIKKKAN BADA$$. Joey spoke about the latter collaboration during a 2017 interview with Ebro Darden.
"Cole already told me he was getting me my verse," Joey said. "And literally, he told me like, 'Joe you are the only person I got on my feature list. I ain't doing no more features. Only your feature is the one that's important to me.' Literally, the day before 4 Your Eyez Only came out, he sent the verse back." 

2000 is the sequel to Joey's 2012 debut mixtape, 1999. The project features production by Mike Will Made-It, Erick the Architect, Statik Selektah, and more, as well as guest appearances by Westside Gunn, Larry June, Chris Brown, and JID.
"I could take 5 years off cuz my shit is timeless," Joey wrote following the release. "My core got my back so I'm standing on my promise ✨ 2000 out now!"