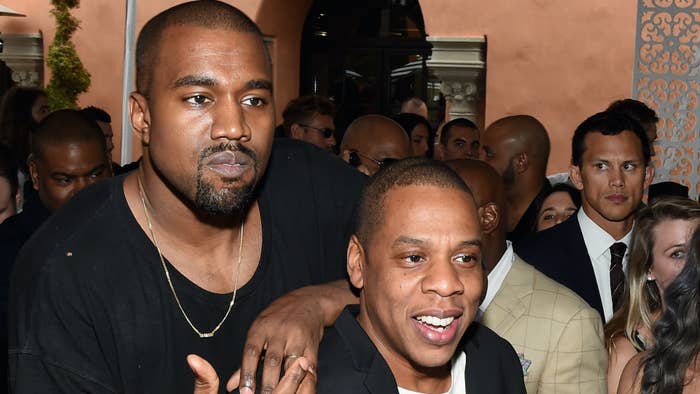 Jay-Z has defended Just Blaze against Kanye West's "copycat" claims.
During a Twitter Spaces chat on Friday, Hov was asked about Kanye's explosive Drink Champs interview and whether he had any thoughts on the comments that were made. Jay admitted he had watched portions of the lengthy sit-down, including the part where Kanye referred to Just Blaze as unoriginal.
"He get credit for The Blueprint, and I did the first half of The Blueprint, and he just copied my half," Ye told N.O.R.E. and DJ EFN when asked if Just Blaze was his "superior." 
"I mean look—look where I'm at today and look where he at today. So that should show you… I like the originators man. I don't mind, like, you know, the copycats too, and—by the way—you just gotta say it like it is. … But I love you, but just know what it is."
Jay, who is on a promotional tour for the Netflix film The Harder They Fall, pushed back against Kanye's remarks, but acknowledged that everyone is entitled to their own opinion.
"Everyone sees things through their own lens," he explained. "Some of it could be true, and some of it may not be true, but that's the lens that you see it through, so you're just speaking to your truth. And I think the one thing I would say … maybe the Just Blaze thing was unfair."
Jay said the producers who were involved with The Blueprint were collectively assigned to create an album centered around soul; and because cohesion was among the main priorities, it was inevitable that the contributions would be similar.
"I don't think anyone was copying off anyone ..." he said. "I think everyone created for the project. The baby was The Blueprint … it's something we should all be proud of, and everyone should be prized for their contribution … We all had the assignment and created this one body of work … Everyone is going to have a different truth."
Just Blaze also responded to Kanye's remarks via Instagram:
"Respectfully, I'm happy for him and the fact that he has succeeded in the ways he wanted to, but not everyone wants to be where he is," he wrote. "Everyone's definition of personal success is a bit different. I'm quite happy where I am creatively, with my family, and my life in general. We were a part of history together and I wish him well and continued success."