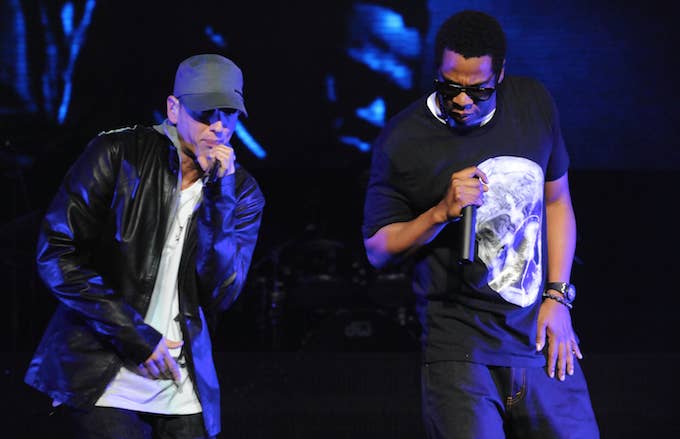 More bad news for The Weinstein Company. Less than two months after the film studio filed for bankruptcy protection, it was revealed two of the biggest names in hip-hop were suing the company over unpaid royalties.
According to legal documents obtained by The Blast, Jay Z and Eminem have filed a lawsuit against TWC, claiming they are owed more than $800,000 between the two of them. Jay alleges the studio has failed to pay him $240,000 for his work on the Kalief Browder docuseries, as well as $240,000 for his Trayvon Martin project. Hov also says the total amount is potentially higher than $480,000, as "TWC hasn't been forthcoming with its accounting."
As for Eminem, the Detroit rapper claims he was promised six figures for his contributions to the 2015 film Southpaw. Shady reportedly agreed to record one song the movie's soundtrack, as well as executive produce the album; however, he claims TWC still owes him $352,000 for his work. According to legal documents, Em has been trying to secure his payment as recently as October 2017—more than two years after the soundtrack was released.
TWC filed for bankruptcy in mid-March, just five months after its founder Harvey Weinstein began to face a slew of sexual misconduct allegations. Since the filing, more details have been revealed about the studio's financial issues, including its alleged debt to Quentin Tarantino. According to IndieWire, the famed director claims the company owes him $4.5 million in royalties for his work on Grindhouse, Inglourious Basterds, Django Unchained, and The Hateful Eight films.