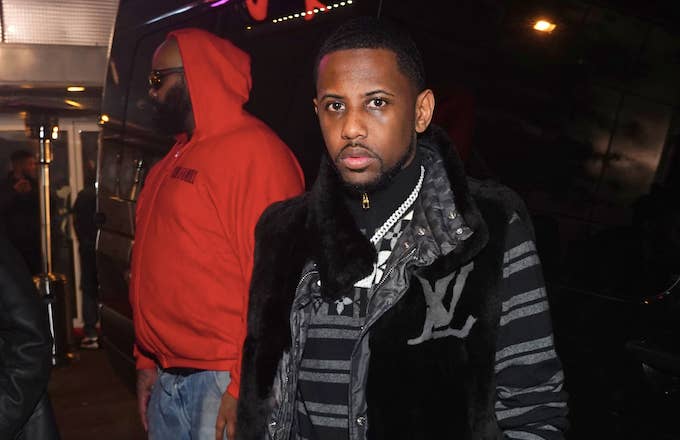 Fabolous will avoid jail time after copping a plea deal in his domestic violence case.
TMZ reports New Jersey prosecutors will dismiss the rapper's charges so long as he stays out of trouble for a year and completes a pretrial intervention program. PTI was designed to deter future criminal behavior and is typically offered to first-time offenders. Fabolous is not required to take anger management or any form of therapy, but he must provide the Bergen County Courts with monthly status updates. 
Fabolous's charges stem from a physical altercation he had with long-term girlfriend Emily B and her father. It was reported that the 41-year-old got into a fight with Emily—the mother of his two children—and struck her seven times, causing severe damage to her two front teeth. Following the alleged attack, Emily asked her father and brother to come to the couple's house and remove Fabolous' firearms, as she was afraid he'd use them against her. When Fabolous found out the guns were gone, he allegedly threatened to kill Emily, her father, as well as her brother, according to NorthJersey.com.
A surveillance camera captured the violent exchange that occurred in the driveway of Fabolous and Emily's Englewood, New Jersey home. The rapper was seen confronting Emily's father while wielding a pair of scissors. He was subsequently indicted on one count of domestic violence with significant bodily injury, two counts of threatening to kill, and one count of possession of a weapon. When combined, these charges had Fab facing up to 20 years in prison. 
The 41-year-old's plea deal isn't too surprising, as Emily and her father stayed by Fabolous' side as the domestic assault case played out. The couple is still together.