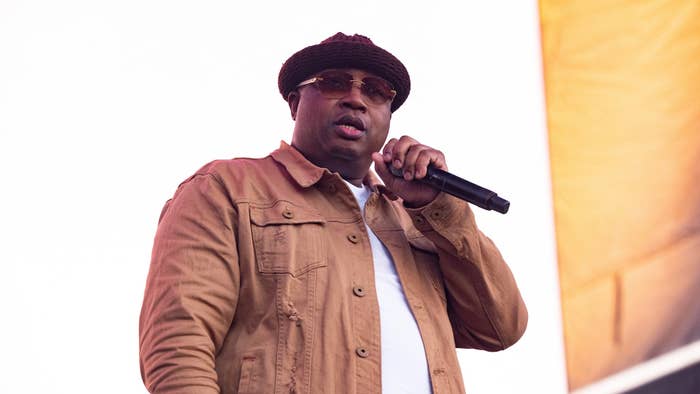 After Dr. Dre hinted at an EminemVerzuzbattle, fans immediately took to Instagram to suggest possible opponents. Jay-Z, Twista, T.I., Nas, and Tech N9ne were among the names that were tossed around. But if you ask E-40, there's one rapper who would dominate Em in a battle of hits: Busta Rhymes.
The Bay Area legend addressed the possible showdown during a recent appearance on Jalen & Jacoby podcast.
"Busta Rhymes would eat Eminem in a Verzuz battle. I really believe that," E-40 said. "Busta Rhymes goes crazy. Because, now, it's turned into a performance type of situation. Busta Rhymes is animated. He got gas. He raps fast, all that. He do all that stuff that Eminem do. And Busta Rhymes got up-tempo slaps that get the party goin'. Anytime you got up-tempo slaps, you're gonna win."
E-40 made it clear he has nothing but love for Marshall Mathers and acknowledged his impact on the hip-hop culture.
"Eminem is so legendary. You know, definitely. Can't take nothing away from him," he continued. "Great hits, great style—I mean, he's legendary, he's an icon …"
E-40 went on to imply that Busta's discography is widely slept on, as many people aren't aware of all his contributions.
"I feel like Busta Rhymes gots what it takes to bring it to the surface, man, to let people say, 'Damn, I didn't even know he had all these hits, man' …" he said. "The stuff he did with Mariah (Carey) and the stuff he did with Craig Mack, and he got his own slaps, bro. And he's animated."
E-40 joking told the hosts to get Verzuz co-founder Swizz Beatz on the phone: "He and Timbaland need to make this happen."
Swizz is clearly open to an Eminem and Busta Verzuz battle, as he suggested the event on Dr. Dre's Instagram page. Earlier this week, Dre posted a video of Slim Shady delivering a rapid-fire flow, and captioned the clip with, "Marshall Mathers vs Who???!!"
And it seems there was only one name that came to Swizz's mind: "BUSTA !!!!!!!!!!! Let's go," he commented.
Here's hoping the showdown comes to fruition.