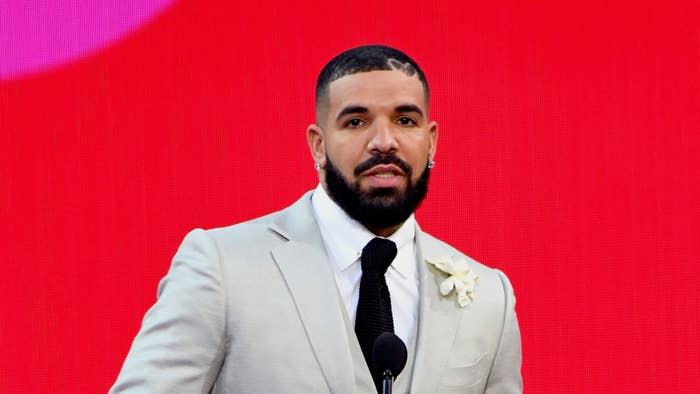 Drake has formally announced the release date for his new album, the long-teased Certified Lover Boy, as well as shared the cover art.
The official Instagram announcement comes just days after the OVO boss teased the Sept. 3 release date of the long-awaited follow-up to his 2018 album, Scorpion. The drop date was revealed in a cryptic clip during ESPN's SportsCenter program last week. The broadcast was briefly interrupted by a glitchy promo that was made to appear like it was a hack, as it featured distorted vocals and grainy imagery, including some shots of a piece of paper that read: "CLB September 3."
The SportsCenter Twitter account addressed the incident in a tweet Friday afternoon, writing: "We want to apologize for any interruptions viewers might have experienced during SportsCenter this morning. We had some technical difficulties that have since been resolved."
Certified Lover Boy has been in the works since 2019, when Drake told fans he was locked in "album mode." At the end of that year, he made an appearance at a DaBaby concert and suggested his sixth studio album would arrive sometime in 2020. He would continue to tease the project over the following year, eventually revealing its title and its original release date last fall. 
The album was expected to drop in January of this year, but was pushed back so that Drake could focus on his health.
"I was planning to release my album this month, but between surgery and rehab, my energy has been dedicated to recovery," Drake wrote on social media at the top of the year. "I'm blessed to be back on my feet, feeling great and focused on the album, but CLB won't be dropping in January. I'm looking forward to sharing it with you all in 2021."
It was less than a month ago when Drake announced he had completed Certified Lover Boy and that it was "on the way." Shortly after, he connected with Trippie Redd on "Betrayal," a track in which he seemingly took shots at his friend-turned-foe, Kanye West, as well as said his release date was "set in stone."
Below, see the official announcement the 6 god shared to Instagram early Monday morning. Note that Drake has tagged artist Damien Hirst, a key figure in the conceptual art space. Initially unclear at the time of this writing, however, was whether the image Drake shared when tagging Hirst—i.e. a white canvas emblazoned with rows of pregnant women in emoji form—would end up being the CLB cover art, or if it was merely part of a larger rollout strategy. Elliott Wilson at TIDAL has since confirmed that this is indeed the cover:
Quick to hop in the comments to celebrate the official announcement were Popcaan, Jesse Jo Stark, Offset, Michael Rubin, and more: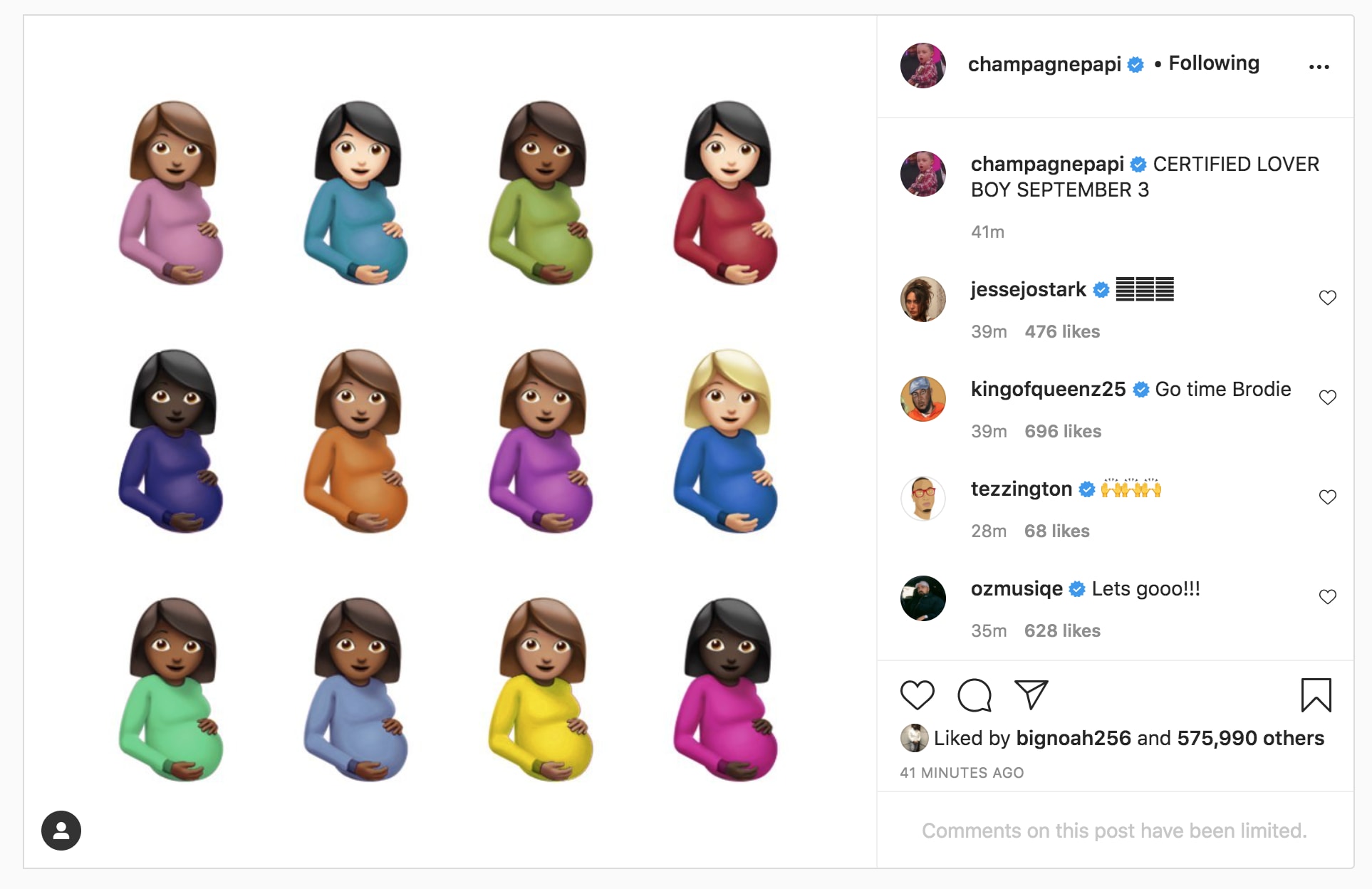 Not long after the reveal, the folks at @drakerelated shared a photo of a canvas of the cover, noting it was "1 of 2" by Hirst:
Speaking of release dates, there was a brief moment earlier this month in which fans were theorizing with some confidence that Drake and Kanye would be sharing a release date, a theory given a bit more fuel by way of those aforementioned "Betrayal" lyrics and some ultimately-removed-from-Instagram social media activity.
Most notable, perhaps, was when Kanye posted and deleted Drake's Toronto address. While the address itself had previously been accessible for the general public, that didn't stop controversy from brewing. Drake, in expected fashion, later seemingly responded to this development in the feud with a timely laughing video.
Meanwhile, Donda arrived on Sunday and has dominated the music conversation on Twitter and beyond. As a new week begins, there's little chance of that changing until CLB shows up on Friday.
While you wait, it's advised that you revisit "Summer Games" with a fervent frequency.